The Science Behind It...
Overall clinical data on a specific ingredient(s) & how they function.
Azelaic Acid Vs. Retinol - Which Is Right For You?
Azelaic acid and retinol are often compared for their potential to support improvements in the appearance of acne, skin tone and texture, and overall radiance. However, instead of debating retinol vs. azelaic acid, using these two multipurpose ingredients together may be the best choice for optimal results.
What is Azelaic Acid?
Azelaic acid is a naturally-occurring acid, relatively gentle exfoliator, and a part of the dicarboxylic acid family. Its molecular structure differs from that of alpha-hydroxy acids (AHAs) and beta-hydroxy acids (BHAs), while its larger size generally qualifies it as a non-irritating ingredient.
It is often appreciated for its ability to help address congestion and hyperpigmentation, specifically without drying out the skin. It has comedolytic and antimicrobial properties that can reduce blemishes and help maintain clearer looking skin. Azelaic acid is also categorized as an antioxidant, because it supports the skin in inhibiting the effects of free radicals and damaging environmental stressors.
What Type of Skin is Azelaic Acid Best For?
Individuals with sensitive, dry, and/or acne-prone skin will typically find azelaic acid to be an exceptionally gentle, yet effective ingredient. Azelaic acid can be a positive addition to the skincare routines of anyone who is hoping to:
Combat skin congestion without irritation

Help neutralize the appearance of hyperpigmentation, including post-acne marks

Support cell renewal and help restore the skin's ideal balance

Create the appearance of smoother, more even skin texture and tone

Promote a glowing complexion
What is Retinol?
Retinol is a derivative of Vitamin A and a widely-known type of retinoid, offering many different benefits for various skin types. It can support the skin on a cellular level, working to contribute to the natural processes of cell turnover and collagen production.
What Type of Skin is Retinol Best For?
Retinol is offered in a variety of different concentrations allowing individuals with highly sensitive skin to start at a low dose and increase the dose as they build a tolerance. Incorporating hydrating or skin-soothing ingredients can help offset any potential reactivity such as peeling and redness. Some individuals may experience skin purging making the breakouts appear worse before showing signs of improvement.
Because it can support collagen production and cellular turnover, retinol is considered an ideal option for those that would like to:
Help skin appear firmer and more smooth

Combat the appearance of acne breakouts

Encourage a natural radiance

Achieve a younger-looking complexion
Is Azelaic Acid or Retinol Better for Acne?
One of the most common reasons for comparing retinol vs. azelaic acid is to determine which one is best for acne-prone skin. In many cases, individuals may wonder if azelaic acid or retinol is better for other skincare concerns, including hyperpigmentation and the overall appearance of skin tone and texture.
In general, both azelaic acid and retinol can be ideal ingredients for individuals with acne-prone skin. Both help facilitate the processes necessary for skin that appears fresher and brighter. In fact, you can even combine the two and potentially reap the benefits of their complementary effects. If you have sensitive or extremely dry skin, you may find that retinol leads to mild irritation. In this case, you can still support similar goals with azelaic acid alone.
DISCLAIMER: Lab Journals are intended to help educate on specific ingredients and skin care topics. Our articles are written to be informative and informational.
Please note any Naturium products with referenced ingredients are formulated for Cosmetic Use Only and NOT intended as replacements for physician pharmaceutical product recommendations. Azelaic Topical Acid 10%
30 ML / 1.0 FL OZ Our azelaic acid serum contains a high concentration of a glycinated azelaic acid complex, along with niacinamide, vitamin C and...
View product page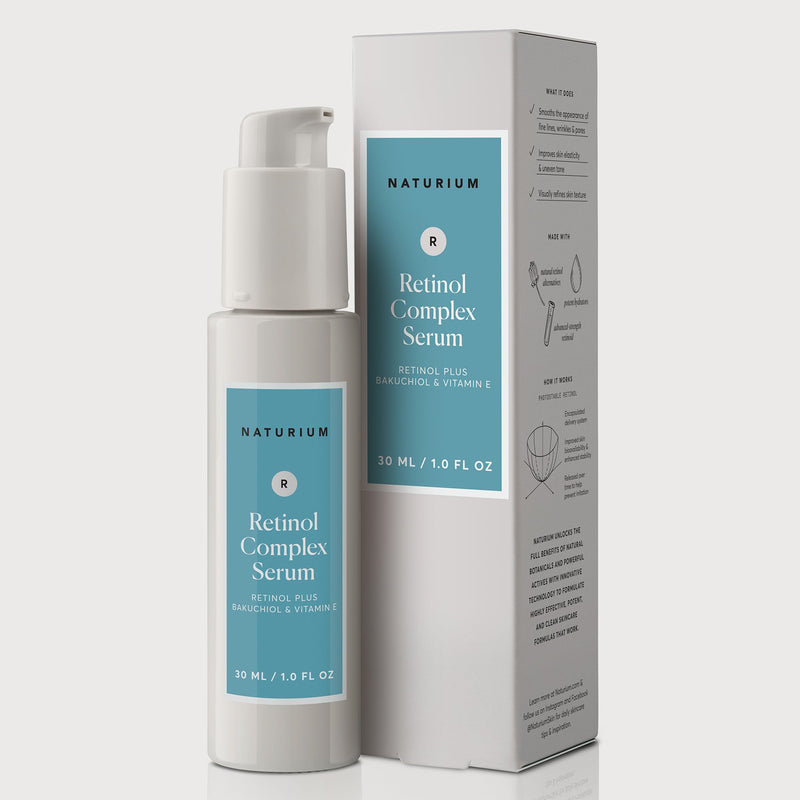 Retinol Complex Serum
30 ML / 1.0 FL OZ Our advanced retinol serum is formulated with a photostable, synergistic blend of encapsulated retinol, a natural bio-retinol and...
View product page