4 Reasons To Use An Eye Cream
The skin that surrounds your eye area is actually the thinnest, and most sensitive skin on your entire complexion. Moreover, it also contains the fewest oil glands—all of which is why visible signs of aging, such as fine lines and wrinkles, are often first to make their mark around the eyes. Enter: Eye cream. Though some might tell you that any facial cream will work just as well for the eye area, they are significantly mistaken. Here are 4 important reasons to start using a daily eye cream.
THE SCIENCE BEHIND IT…
OVERALL CLINICAL DATA ON SPECIFIC INGREDIENT(S) & HOW THEY FUNCTION:
1. TO STAVE OFF AND FADE VISIBLE SIGNS OF AGING
As noted, because the skin surrounding the eye area is so thin, there are also fewer oil glands underneath it. While oily skin tends to get a bad rep, some sebum (oil) on the skin is necessary in order to keep its barrier healthy, strong and intact. Sebum also helps keep our skin moisturized, and in the case of the eye area, a lack of natural oil production often renders this area of the skin very dry. Dry skin leads to premature aging of the skin—in other words, fine lines developing at a faster rate than if the skin were nourished. All of this is why it's crucial to consistently moisturize the eye area, which in turn will stave off visible signs of aging, such as fine lines and crow's feet.
TO HELP DIMINISH PUFFINESS
We've all woken up to puffy-feeling eyes, whether from general inflammation, lack of sleep or another underlying cause. When this happens, your best bet is to reach for a calming, brightening eye cream. Even better, if you have a tendency toward puffiness in the eye area, store your eye cream in the fridge; The instantly cooling sensation of applying it won't just feel sublime, it will also help subside the swelling.
3. TO PREVENT AND CONCEAL DARK CIRCLES
Some of us are genetically prone to dark undereye circles, while for others, they result after a night spent tossing and turning. Either way, a quality eye cream, formulated with skin-brightening ingredients such as peptides, can help restore brightness to even the most tired-looking undereye areas. Pro tip: Apply your eye cream onto clean skin, then wait a few minutes for it to sink in. Follow up with a color-correcting concealer, then layer your foundation on top.
4. BECAUSE EYE CREAM IS DIFFERENT - VERY DIFFERENT - FROM FACIAL MOISTURIZER
While you might be tempted to apply your facial moisturizer onto your eye area, doing so may not garner the results you hope. In other words, yes, you do need separate moisturizers for your face and eye areas. Why? For one, applying facial cream onto your undereye area can cause milia, or small white spots, to develop, as the pores become plugged up by a product that is not formulated to properly penetrate this thin, delicate skin. Second, the ingredients in eye creams—such as peptides, squalane and caffeine—have benefits that are particularly helpful for the eye area, such as brightening and de-puffing the skin.
HOW AND WHEN TO PROPERLY APPLY EYE CREAM
Using your ring finger and a light hand, apply a small dollop of eye cream onto your undereye area and around your eye. Do so every morning and evening as part of your regular daily routine, applying eye cream onto clean skin, post-cleansing.
OUR RECOMMENDATION: MULTI-PEPTIDE EYE CREAM
Formulated with a proprietary multi-peptide blend, this eye cream hydrates, brightens and smooths the look of fine lines and wrinkles.
DISCLAIMER:
Lab Journals are intended to help educate on specific ingredients and skin care topics. Our articles are written to be informative and informational.
Please note any Naturium products with referenced ingredients are formulated for Cosmetic Use Only and NOT intended as replacements for physician pharmaceutical product recommendations.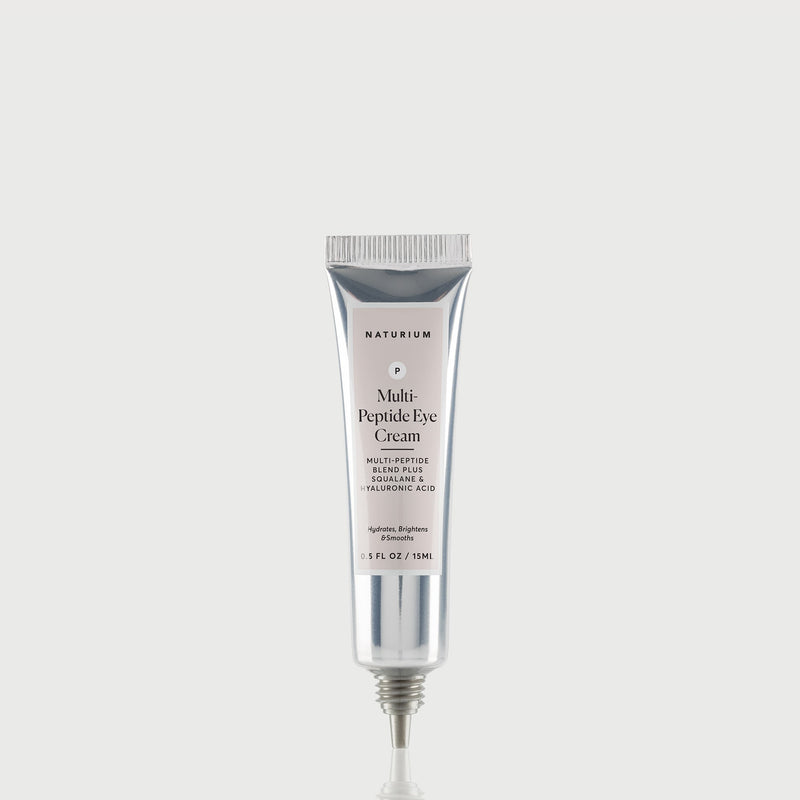 Multi-Peptide Eye Cream
15 ML / 0.5 FL OZ Our silky and lightweight eye cream is formulated with peptides, including Argireline® Amplified peptide, to help smooth and impr...
View product page