You've definitely heard of Salicylic Acid. This skincare superstar ingredient is most widely-known for its highly effective capabilities to clarify the skin, decrease sebum production, and reduce inflammation, but do you know how it works its magic? Read on to learn more about salicylic acid and its role in our new formulations.
THE SCIENCE BEHIND IT…
OVERALL CLINICAL DATA ON SPECIFIC INGREDIENT(S) & HOW THEY FUNCTION:
While this BHA is used for cosmetic purposes to exfoliate and even skin tone and texture, salicylic acid can also be used as an active pharmaceutical ingredient in an over-the-counter topical product to treat acne. The key difference is that products containing salicylic acid for the purpose of treating acne are considered drugs and must be formulated to the parameters set in the Acne Final Monograph which dictate concentration, format, indications, labeling requirements, and additional formula testing.
The FDA has classified salicylic acid as generally recognized as safe and effective (GRASE) when used at a concentration between 0.5-2% and formulated to parameters in the Acne Final Monograph. Salicylic acid has anti-inflammatory, comedolytic, and antimicrobial properties while promoting corneocyte desquamation and reducing sebum production. Comedolytic means it inhibits the formation of comedones, the opposite of a comedogenic material. Since it has anti-inflammatory properties it can help reduce the redness and swelling associated with inflammatory acne. Salicylic acid is unique in that it is lipophilic allowing it to better penetrate the pilosebaceous unit, the ideal site to target acne.
Naturium harnessed the power of this acne-fighting drug active in two potent treatments which differ in salicylic acid concentration as well as product format offering options to individuals wishing to treat their blemishes and breakouts.
Encapsulated Salicylic Acid Moisturizer 0.75%
Since salicylic acid reduces sebum production some individuals can find it drying on the skin. An individual can struggle with both dry or combination skin and acne. Our Naturium Encapsulated Salicylic Acid Moisturizer 0.75% provides a moderate level of salicylic acid in a moisturizing format for daily use to maintain clearer-looking skin. The salicylic acid penetrates the hair follicles to treat and prevent breakouts while humectants and a skin mimicking lamellar gel emulsifier hydrate skin. The encapsulation aids in uniform dispersion of salicylic acid, preventing recrystallization and removing the need to solubilize with more harsh solvents like alcohol. Our Encapsulated Salicylic Acid Moisturizer 0.75% soothes blemish-prone skin without overly drying and also contains a highly purified octadecenedioic molecule to help provide a brighter-looking complexion.
Salicylic Acid Serum 2%
We also offer a potent Salicylic Acid Serum 2% to help clear up and prevent new acne blemishes. We used the maximum concentration of salicylic acid allowed for an OTC drug acne product not marketed under an NDA. The salicylic acid is also incorporated in a delivery system that optimizes product stability, reducing the chance of recrystallization or color shifting. This serum contains hydrating humectants as well as maltobionic acid to further exfoliate and reveal an even, radiant skin complexion. Our non-sticky lightweight Salicylic Acid Serum 2% is easy to apply under other serums or a moisturizer.
Naturium makes it easy to slip salicylic acid into your routine to both prevent and treat acne revealing your healthiest, most radiant skin.
DISCLAIMER:
Lab Journals are intended to help educate on specific ingredients and skin care topics. Our articles are written to be informative and informational.
Please note any Naturium products with referenced ingredients are formulated for Cosmetic Use Only and NOT intended as replacements for physician pharmaceutical product recommendations.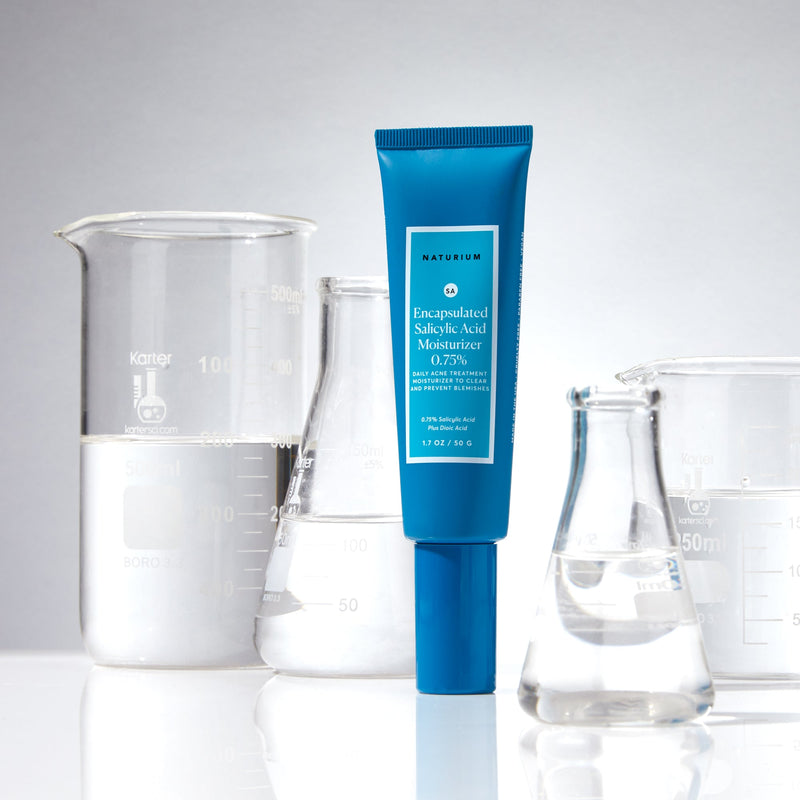 Encapsulated Salicylic Acid Moisturizer 0.75%
1.7 OZ / 50 GOur daily acne-fighting moisturizer is formulated with 0.75% encapsulated salicylic acid to target and treat blemish-prone skin. With ...
View product page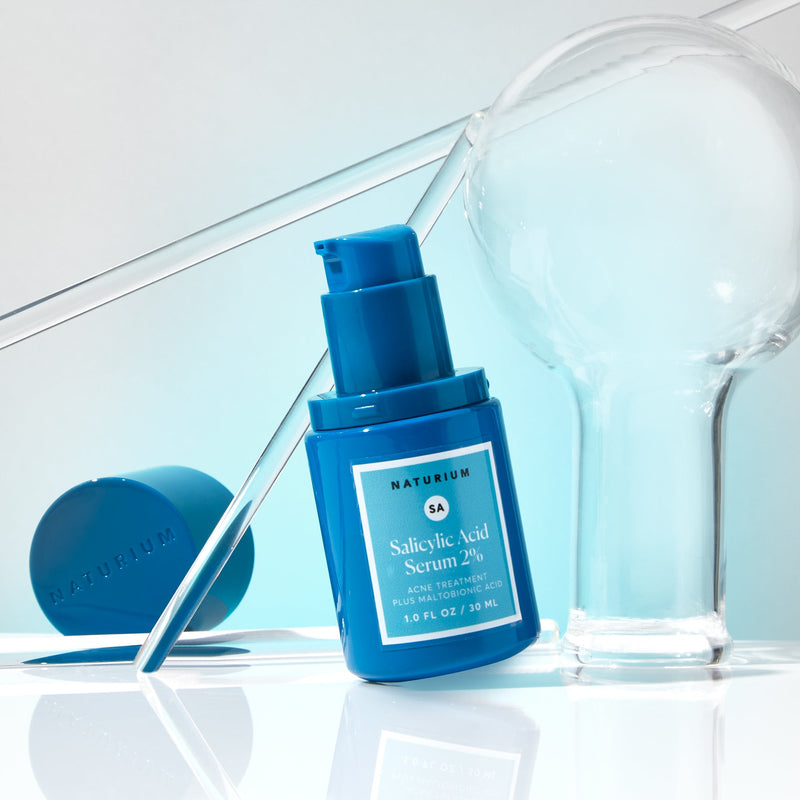 Salicylic Acid Serum 2%
1 FL OZ/30 MLOur clarifying salicylic acid serum is formulated to treat acne and prevent new blemishes from forming for healthier-looking skin. Plu...
View product page