We've Reinvented The Pre-Cleanse Again: Introducing Our Purple Ginseng Cleansing Balm
One of the biggest requests that our team has received is to create a cleansing balm. After working tirelessly to get the formula just right, we finally launched one. It starts off as a solid, melts into a sorbet-like texture, then transforms into an oil that breaks down makeup and grime from the day. And of course, it turns milky when you add water to emulsify. Read more to learn all about our Cleansing Balm!
THE SCIENCE BEHIND IT…
OVERALL CLINICAL DATA ON SPECIFIC INGREDIENT(S) & HOW THEY FUNCTION:
We created another innovative product to level up your double cleansing game. This melt-on-skin solid cleansing balm removes SPF, makeup and sebum with ease leaving skin soft and supple. One of the biggest requests from Susan's followers has been a cleansing balm without PEGs or polyethylene, that actually worked. We took this challenge very seriously. Most cleansing balms rely on PEG-based emulsifiers to remove impurities from the skin and for a clean rinse-off. The ethoxylation process helps increase polarity of the emulsifiers, but we chose to push the boundaries and only use natural plant based emulsifiers. This requires selecting and blending biobased emulsifiers to the right HLB (hydrophilic lipophilic balance) to be stable in the formula, effective at solubilizing impurities on the skin, and rinsing off well with water. Unlike traditional cleansing oil and cleansing balms that need to be applied on dry skin to work, our cleansing balm features a unique emulsifier that efficiently removes makeup, SPF, and sebum under both wet and dry conditions. You can use the cleansing balm in the shower without worrying about keeping your face dry, thus saving your precious time.
Another key ingredient in typical cleansing balms is polyethylene. Polyethylene is a structuring agent that solidifies oil based ingredients without syneresis or sweating. We worked hard to create a stable, solid, polyethylene-free balm that melts on skin without leaving much residue. Our high purity low melting point wax structures as well as offers slip. The formula is primarily made of silky, medium to fast spreading synthetic and natural emollients rather than botanical oils or silicones. Our emollients have a lower surface tension than botanical oils helping the slip, spread, and solubilization while being more biodegradable than silicones.
Antioxidant rich botanical extracts naturally provide the beautiful purple color to our balm. We blended these with linoleic rich chia seed oil and jojoba oil as well as adaptogenic purple ginseng. Adaptogens are known to restore balance and homeostasis to the skin, helping skin adapt to the ever changing environment. Our purple ginseng cleansing balm dissolves and removes skin stressors such as pollution, excess sebum, and sunscreen that can cause congestion, inflammation, and redness. Our cleansing balm provides a comfortable clean leaving skin feeling soft, smooth and nourished.
DISCLAIMER:
Lab Journals are intended to help educate on specific ingredients and skin care topics. Our articles are written to be informative and informational.
Please note any Naturium products with referenced ingredients are formulated for Cosmetic Use Only and NOT intended as replacements for physician pharmaceutical product recommendations.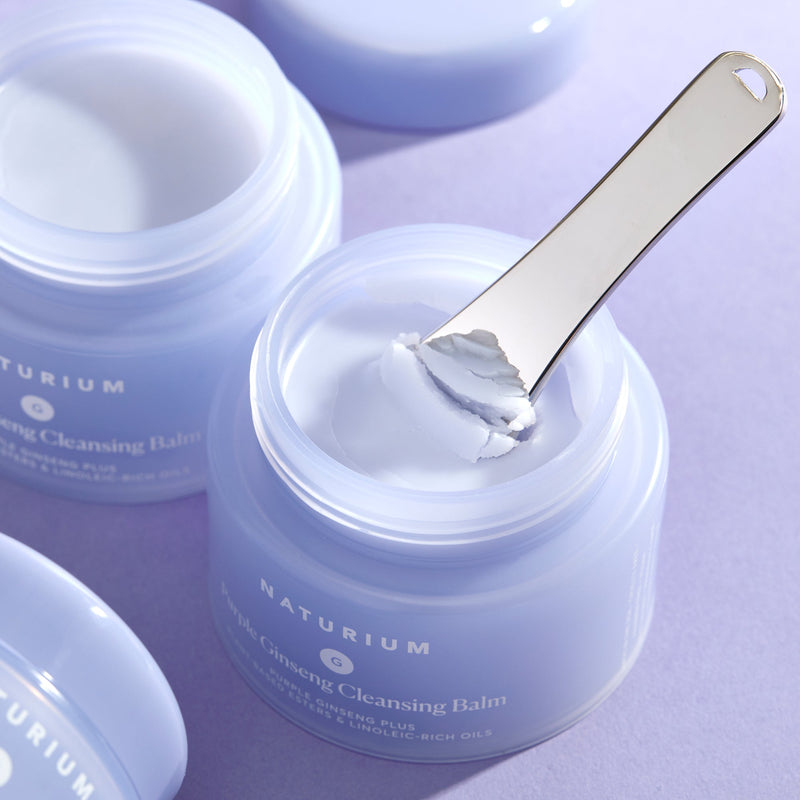 Purple Ginseng Cleansing Balm
3.0 FL OZ / 88 ML Our cleansing balm is formulated with purple ginseng, plant-based esters and a nourishing blend of linoleic-rich oils that help t...
View product page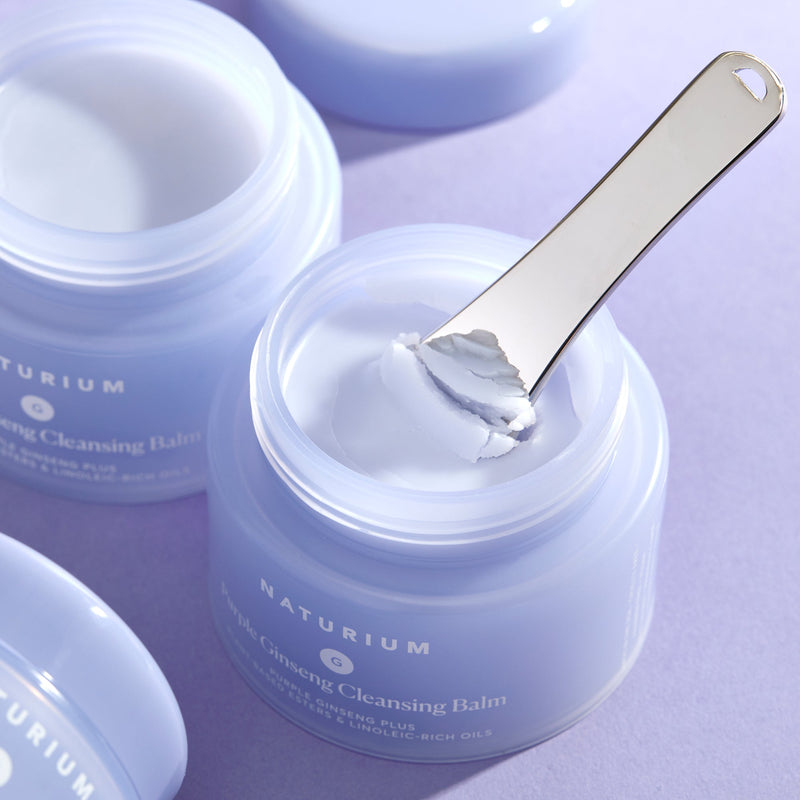 Purple Ginseng Cleansing Balm
3.0 FL OZ / 88 ML Our cleansing balm is formulated with purple ginseng, plant-based esters and a nourishing blend of linoleic-rich oils that help t...
View product page