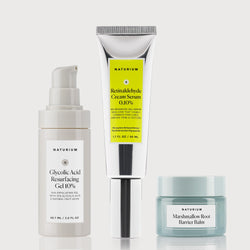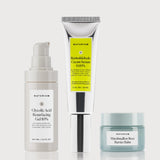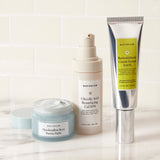 The Advanced Skin Cycling Bundle
This leveled-up skin cycling bundle features the ultimate trio of Glycolic Acid Resurfacing Gel 10%, Retinaldehyde Cream Serum 0.10%, and Marshmallow Root Barrier Balm to treat and recover through the week.
Night one: Glycolic Acid Resurfacing Gel 10% - This AHA exfoliating gel is formulated with 10% high-purity glycolic and natural fruit acids that resurface skin to improve the look of fine lines, wrinkles, pores, and uneven skin tone, revealing a brighter, more radiant-looking complexion.

Night two: Retinaldehyde Cream Serum 0.10% - Formulated with an increased level of sustained-release retinaldehyde 0.10%; a potent next-gen retinol that directly converts to retinoic acid, which visibly addresses the look of fine lines, uneven tone, and texture.

Night three & four: Marshmallow Root Barrier Balm - Our balm is formulated with a soothing blend of marshmallow root, centella asiatica, colloidal oatmeal, arnica, and milk thistle to lock in moisture and help support the skin barrier over time.⁠ Make sure to apply it over your nighttime moisturizer to lock in hydration.
Bundle Kits will arrive in our standard shipping boxes and do not include special packaging.
Bundle Kits are Final Sale and not eligible for additional discounts or coupon codes.