Azelaic Acid Vs Niacinamide
The Science Behind It...
Overall clinical data on a specific ingredient(s) & how they function.
Azelaic Acid Vs. Niacinamide - Which Is Right For Your Skin?
Is azelaic acid better than niacinamide, or is the reverse true? This is a common question for individuals searching for the best ways to manage skin congestion, hyperpigmentation, and the visible signs of inflammation. But rather than choosing between the two, a combination of azelaic acid and niacinamide might actually be the most effective option.
What is Azelaic Acid?
Azelaic acid has a unique molecular structure that designates it as a dicarboxylic acid, which is a separate category of acids from the well-known alpha-hydroxy acids (AHAs) and beta-hydroxy acids (BHAs). Often considered to be an effective acid for helping the skin return to a naturally balanced state, azelaic acid is also counted among the gentler of exfoliating acids due to its high molecular weight.
What Type of Skin is Azelaic Acid Best For?
Azelaic acid is frequently regarded as a skincare staple for individuals with acne-prone skin, as well as those seeking products to help minimize the appearance of hyperpigmentation. Because it is relatively gentle, azelaic acid is typically a good fit for moderately sensitive skin types, and can be a safe and effective option for individuals with rosacea.
The benefits of azelaic acid can support the needs of those who want to:
Help clear congestion without disrupting natural oil production

Help decrease the visible signs of hyperpigmentation, including post-acne marks and dark spots

Improve the appearance of red, inflamed skin

Support a smooth, clear complexion

Encourage a balanced state in their skin and relevant cell processes
What is Niacinamide?
Niacinamide is a highly stable, water-soluble form of vitamin B3 that can provide improvements in the skin's overall appearance. This versatile ingredient is impressively well-suited to a diverse range of skin types and goals. Like azelaic acid, niacinamide can encourage the reduced appearance of dark spots, and also play a supportive role in reinforcing the protective barrier that keeps environmental stressors at bay.
What Type of Skin is Niacinamide Best For?
Because niacinamide is so gentle, it can be used by nearly any skin type, including sensitive and/or acne-prone skin. The potential benefits of using niacinamide make it a positive addition to the skincare routines of individuals who would like to:
Help fade hyperpigmentation, including dark spots

Help skin appear brighter, smoother, and more even

Gently reduce sebum production and minimize blemishes

Encourage the skin's natural protective properties
Is Azelaic Acid or Niacinamide Better for Acne-Prone Skin?
When it comes to choosing the ideal ingredients for your skincare goals, you don't necessarily need to choose between niacinamide or azelaic acid for acne. In fact, azelaic acid and niacinamide may complement each other's effects, offering a winning combination that can help you make exceptional progress in supporting a clearer complexion while also reducing the appearance of dark spots and acne scarring. Using azelaic acid and niacinamide together is generally well-tolerated by most skin types, which is why they are often used in tandem in product formulations.
If you have extremely dry skin, you may find that niacinamide is better than azelaic acid due to its ability to support the skin's natural protective barrier (and thus, encourage moisture retention). But in general, these two ingredients make for a dynamic duo with a wide range of potential benefits to offer.
DISCLAIMER: Lab Journals are intended to help educate on specific ingredients and skin care topics. Our articles are written to be informative and informational.
Please note any Naturium products with referenced ingredients are formulated for Cosmetic Use Only and NOT intended as replacements for physician pharmaceutical product recommendations. Azelaic Topical Acid 10%
30 ML / 1.0 FL OZ Our azelaic acid serum contains a high concentration of a glycinated azelaic acid complex, along with niacinamide, vitamin C and...
View product page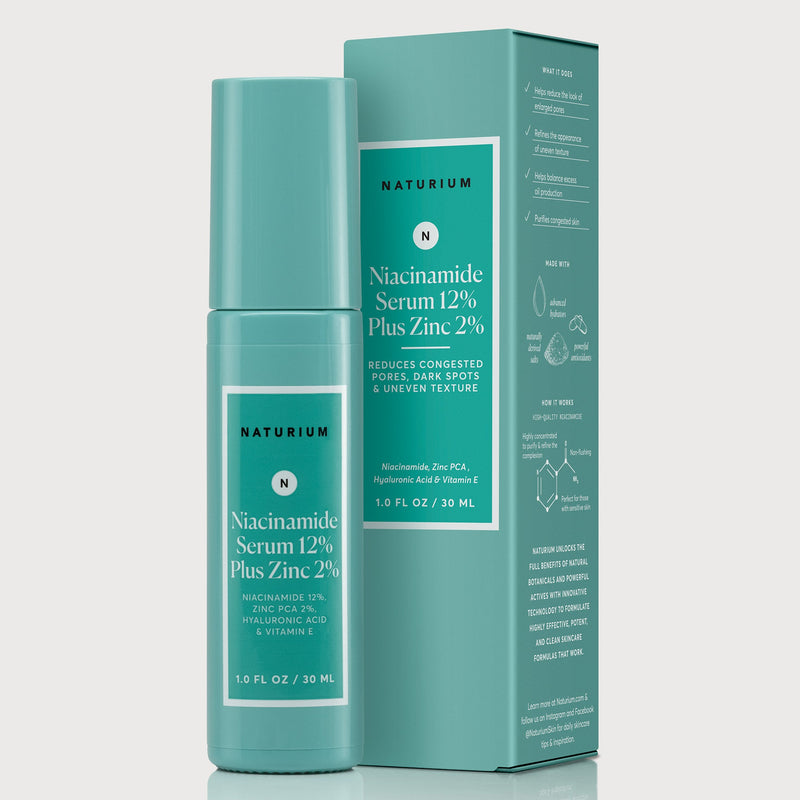 Niacinamide Serum 12% Plus Zinc 2%
30 ML / 1.0 Fl OZ New look, same great formula!Our concentrated serum is formulated with pure 12% niacinamide and 2% zinc PCA, and is clinically pr...
View product page