Using Azelaic Acid and Vitamin C Together
The Science Behind It...
Overall clinical data on a specific ingredient(s) & how they function.
Can You Use Azelaic Acid and Vitamin C Together?
Yes, a combination of azelaic acid and vitamin C can offer a variety of benefits for your skincare routine. In fact, using vitamin C and azelaic acid together can be an excellent, pregnancy-safe alternative to traditional retinol and retinoids.
What Does Azelaic Acid Do for the Skin?
Azelaic acid falls within a category of acids that is separate from alpha-hydroxy acids (AHAs) and beta hydroxy acids (BHAs). It is a dicarboxylic acid, meeting the needs of individuals in need of a relatively gentle topical acid. Most frequently sought after for its ability to reduce the appearance of hyperpigmentation related to dark spots and acne scarring, azelaic acid can also help skin look brighter, smoother, and more even in overall tone.
Benefits of Azelaic Acid
Helps minimize the visible signs of dark spots and acne scarring

Supports the skin's ability to clear congestion, including reducing the buildup of dead skin cells

Provides gentle, non-drying exfoliation

Reduces skin redness

Contributes to the appearance of a glowing, even complexion
Who Should Use Azelaic Acid?
As one of the gentler topical skincare acids, azelaic acid can be a good option for many different skin types, including mildly sensitive and/or acne-prone skin. In fact, it can contribute to an overall reduction in skin redness, inflammation, and sensitivity. In high doses it is prescribed to treat rosacea. Also, individuals with dry skin can generally use azelaic acid without experiencing any measurable shift in natural oil production.
If you have extremely reactive skin, there is a small chance for mild irritation after using azelaic acid. If you are concerned about irritation, start with a low dose of azelaic acid a few times a week and then build up in concentration and frequency. Azelaic acid can be found in cosmetic products in concentrations up to 10%.
Azelaic acid can be a helpful ingredient for individuals seeking a brighter, more even-looking complexion and effective support for clearing skin congestion and inflammation.
What Does Vitamin C Do for the Skin?
Vitamin C, also referred to as ascorbic acid, is a naturally potent antioxidant that serves a broad range of purposes throughout the body.
For your skin, Vitamin C helps boost collagen production, while simultaneously protecting existing collagen reserves from degradation over time. It is also one of the best-known ingredients for reducing the appearance of hyperpigmentation (specifically dark spots), helping your skin achieve an overall brighter, more radiant appearance. Finally, Vitamin C plays an important role in combating the harmful effects of free radicals and environmental stressors, supporting your skin's natural self-protective abilities.
Benefits of Vitamin C
Helps fade the appearance of dark spots

Supports the natural production of collagen

Targets and neutralizes damaging free radicals

Enhances the appearance of youthful, radiant skin/p>
Who Should Use Vitamin C?
Because Vitamin C is a naturally-occurring antioxidant and already present in your skin, it is an ingredient from which all skin types can benefit. With its impressive versatility and protective benefits, Vitamin C can be an ideal fit for individuals of all ages, including those with varying skincare goals. It is particularly well-suited for anyone interested in improving the appearance of a brighter, more even complexion. Products with free ascorbic acid are formulated at a very acidic pH to enhance skin penetration which some individuals may find irritating. If that is the case, look for products containing vitamin C derivatives that can brighten and increase skin radiance but don't require low pH formulations.
Layering Azelaic Acid and Vitamin C
In terms of learning how to layer azelaic acid and vitamin C for the best results for your skin, much of it comes down to personal preference. One option is to choose a topical that combines both ingredients in a single formulation, making it a quick and simple addition to your daily skincare routine.
You can also layer the individual ingredients if you prefer. It is often suggested that you apply Vitamin C in the morning, largely because it helps support the skin's natural barrier against environmental factors. You can also use azelaic acid in your morning regimen, or apply it in the evening instead. As always, consider the consistency of the formulas you are using: for optimal absorption, start with the products with the thinnest consistency and work your way through thicker formulas.
How Often Can Azelaic Acid and Vitamin C Be Used Together?
Azelaic acid can be used up to twice a day, especially because it is counted among the gentler acids. Vitamin C is most commonly suggested for morning use but can be used both morning and evening. An evening application can replenish depleted vitamin C levels in the skin that resulted from environmental stressors such as solar exposure.
This dynamic duo can be safely incorporated into your everyday routine, even if you are pregnant (check with your doctor to confirm).
DISCLAIMER: Lab Journals are intended to help educate on specific ingredients and skin care topics. Our articles are written to be informative and informational.
Please note any Naturium products with referenced ingredients are formulated for Cosmetic Use Only and NOT intended as replacements for physician pharmaceutical product recommendations. Azelaic Topical Acid 10%
30 ML / 1.0 FL OZ Our azelaic acid serum contains a high concentration of a glycinated azelaic acid complex, along with niacinamide, vitamin C and...
View product page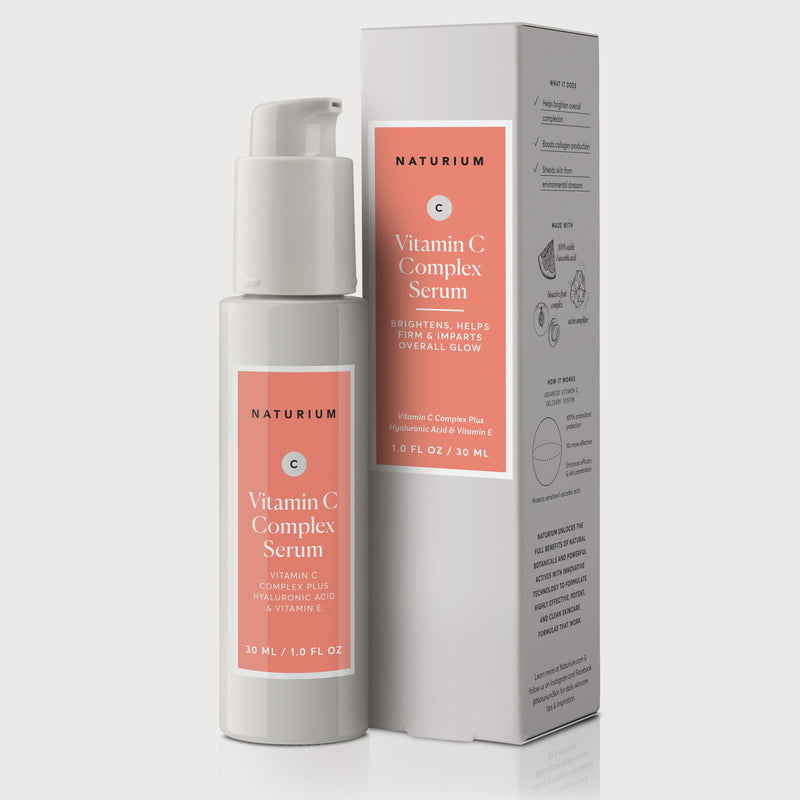 Vitamin C Complex Serum
30 ML / 1.0 FL OZ Our potent vitamin C serum is formulated with a gold and highly stabilized l-ascorbic acid vitamin C complex, sodium ascorbyl ph...
View product page