Hyaluronic Acid Vs. Glycolic Acid
The Science Behind It...
Overall clinical data on a specific ingredient(s) & how they function.
Hyaluronic Acid Vs. Glycolic Acid - Which Is Right For You?
Are you weighing your options between using hyaluronic acid or glycolic acid? Although both of these ingredients are labeled as "acids," they are actually distinctly different – and can both contribute to a well-rounded skincare regimen. If your goal is to achieve a complexion that looks dewy, brighter and more even in tone, combining hyaluronic acid and glycolic acid may be the answer.
What Type of Acid is Hyaluronic Acid?
Despite its somewhat misleading name, hyaluronic is not an exfoliating acid. Rather, it is classified as a humectant, which is a substance that is highly capable of retaining moisture. Hyaluronic acid naturally occurs in the skin, though its supply tends to decrease as a result of age, harsh weather, and even certain skincare products and/or skin conditions.
What Type of Skin is Hyaluronic Acid Best For?
Hyaluronic acid can support the needs of individuals with dry and/or aging skin, as well as those dealing with a complexion that appears dull. In general, it is an excellent ingredient for all skin types, even if you aren't necessarily concerned about hydration. Its molecular weight dictates its function. Hyaluronic acid is a long polymer with a high molecular weight making it act more as a film former and humectant on the surface of the skin while hydrolyzed hyaluronic acid or smaller molecular weights of hyaluronic acid penetrate deeper into the skin aiding in wrinkle reduction.
Hyaluronic acid is a gentle, non-irritating ingredient, making it safe for individuals with reactive skin, acne, and/or rosacea. You may want to consider adding hyaluronic acid to your routine if you would like to:
Support hydration and moisture retention

Encourage the improved appearance of plump, youthful-looking skin
What Type of Acid is Glycolic Acid?
Unlike hyaluronic acid, glycolic acid is an exfoliating acid. In terms of the differences between hyaluronic acid and glycolic acid, this is the most obvious.
Belonging to the alpha-hydroxy acid (AHA) family, it is a deeply-penetrating acid with a distinctly small molecule size. Because it is the smallest of the AHAs, glycolic acid is capable of reaching the skin's epidermal and dermal layers not only exfoliating but stimulating collagen and hyaluronic acid synthesis.
What Type of Skin is Glycolic Acid Best For?
Glycolic acid can be a good fit for individuals with generally tolerant skin, specifically those aiming to reap the benefits of chemical exfoliation. For sensitive skin types, glycolic acid can sometimes lead to mild irritation or redness.
It is typically suggested for individuals who are searching for an acid that can:
Help reduce the appearance of dark spots, UV damage, and other imperfections

Contribute to a brighter, more radiant appearance

Help boost the appearance of a smooth, even complexion
Is Hyaluronic Acid or Glycolic Acid Better for Aging Skin?
Typically, youthful skin is characterized by its radiant, smooth, and well-hydrated appearance, which is something supported by both hyaluronic acid and glycolic acid alike. Rather than attempting to determine if hyaluronic acid or glycolic acid is best, consider combining the two to achieve your skincare goals.
If you are seeking the ideal ingredients to reduce the signs of aging, these ingredients can complement each other exceptionally well. Generally, you'll want to consider glycolic acid as part of your exfoliation routine, whereas hyaluronic acid will be a component that targets moisturization. It is typically recommended that you use hyaluronic acid after glycolic acid, as a means to support hydrated skin.
DISCLAIMER: Lab Journals are intended to help educate on specific ingredients and skin care topics. Our articles are written to be informative and informational.
Please note any Naturium products with referenced ingredients are formulated for Cosmetic Use Only and NOT intended as replacements for physician pharmaceutical product recommendations.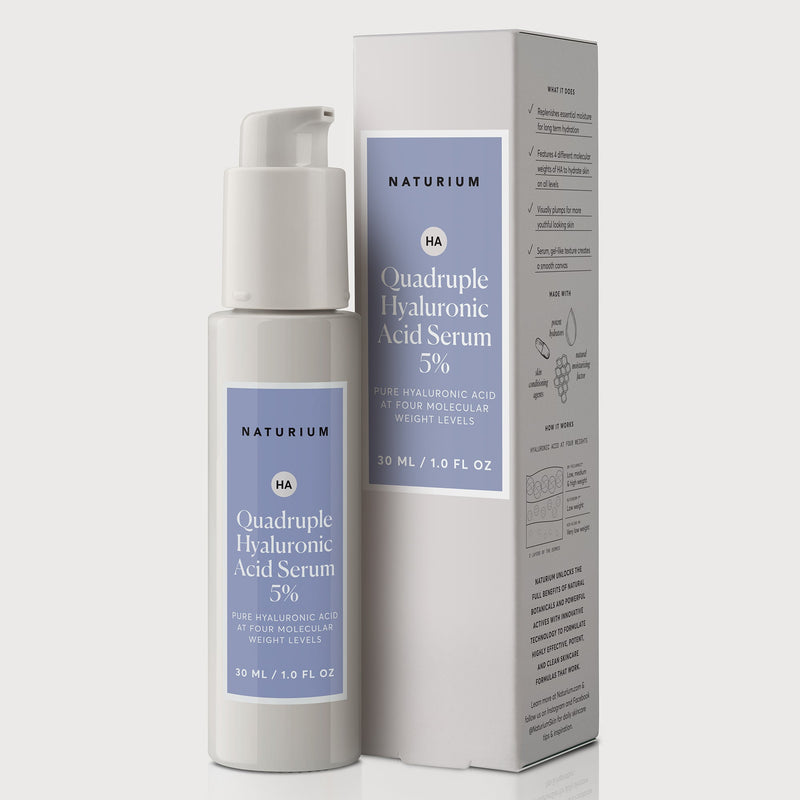 Quadruple Hyaluronic Acid Serum 5%
30 ML / 1.0 FL OZ Our hyaluronic acid serum combines very low, low, medium and high molecular weight pure hyaluronic acid to hydrate and leave skin...
View product page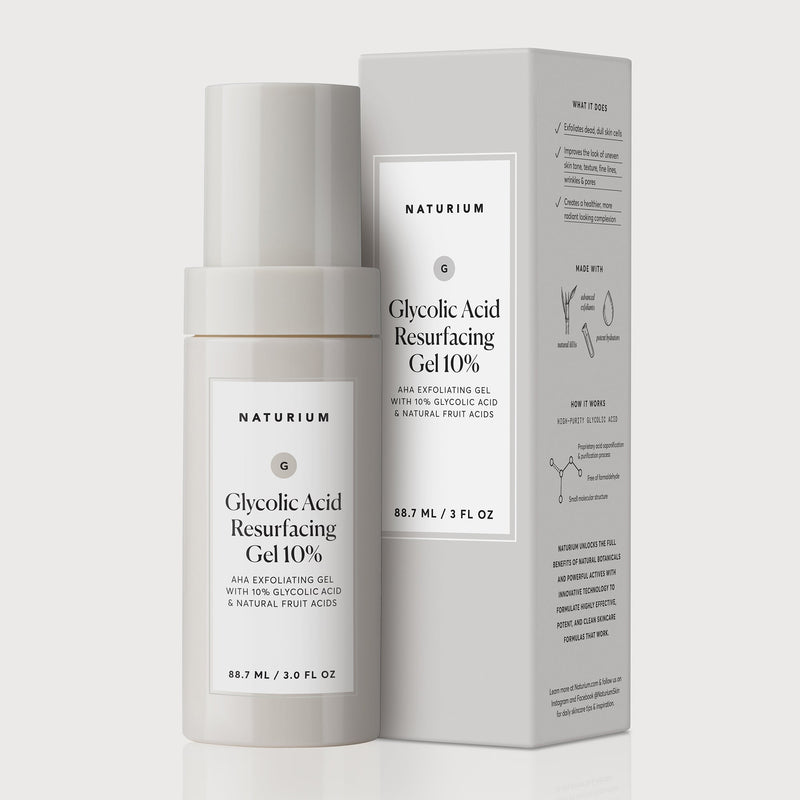 Glycolic Acid Resurfacing Gel 10%
3.0 FL OZ / 88.7 MLOur AHA exfoliating gel is formulated with 10% high-purity glycolic and natural fruit acids that resurface skin to improve the l...
View product page