Mandelic Acid Vs Glycolic Acid
The Science Behind It...
Overall clinical data on a specific ingredient(s) & how they function.
Mandelic Acid Vs. Glycolic Acid - Which Is Right For Your Skin?
In the debate of glycolic acid vs. mandelic acid – especially for reducing the visible signs of aging – it is important to consider your skin type, as well as your past experiences with acidic exfoliants. Both acids can benefit individuals hoping to complement their existing skin care routines with an ingredient that can help exfoliate and brighten the look of skin. However, those with sensitive skin may find that they tolerate one far better than the other.
What Type of Acid is Mandelic Acid?
Mandelic acid is an alpha-hydroxy acid (AHA), specifically one characterized as "aromatic." As such, its oil-solubility is greater than other AHAs, allowing mandelic acid to penetrate pores easily. However, its large molecular size works to slow penetration, making mandelic acid a gentle but effective option.
What Type of Skin is Mandelic Acid Best For?
Mandelic acid can support the needs of all skin types, including dry and/or sensitive skin. Because it is among the gentlest of AHAs, mandelic acid may be an excellent option for individuals with easily irritated or reactive skin.
Mandelic acid can be a helpful skin care ingredient for individuals that want to:
Enhance the appearance of bright, radiant skin

Help diminish the appearance of discoloration, including dark spots and scarring

Help reduce the visible signs of sun damage

Support the natural protective barrier of the skin
What Type of Acid is Glycolic Acid?
Glycolic acid is also an alpha-hydroxy acid (AHA), though it is the smallest of this acid type. The molecular weight of glycolic acid vs. mandelic acid highlights this key characteristic, with glycolic acid measuring approximately half the size of mandelic acid.
Glycolic acid's small molecular weight makes it capable of accessing both the epidermal and dermal layers of the skin.
What Type of Skin is Glycolic Acid Best For?
Glycolic acid is generally best-suited for individuals that do not have particularly sensitive, reactive skin. Its smaller molecule weight enables a deeper level of skin penetration, glycolic acid may contribute to redness or sensitivity for those with easily-irritated skin.
As a clinically-tested AHA, glycolic acid may be an ideal fit for individuals that want an acid to:
Help minimize the visible effects of photoaging, including dark spots and imperfections

Help improve the overall appearance of a smooth, glowing complexion

Help brighten the look of skin by aiding in exfoliation

Support skin's natural balance
Is Mandelic Acid or Glycolic Acid Better for Aging Skin?
For fine lines, wrinkles, and the various signs of photodamage, mandelic acid and glycolic acid can both serve as effective additions to a well-rounded skin care regimen. Individuals with aging skin can experience positive results from both acid types, with mandelic acid typically being recommended as the first option for those with sensitive skin.
When considering mandelic acid vs. glycolic acid, keep your skin's sensitivity level in mind. Should you experience any irritation with glycolic acid, you may want to make the switch to mandelic acid.
DISCLAIMER: Lab Journals are intended to help educate on specific ingredients and skin care topics. Our articles are written to be informative and informational.
Please note any Naturium products with referenced ingredients are formulated for Cosmetic Use Only and NOT intended as replacements for physician pharmaceutical product recommendations. Mandelic Topical Acid 12%
30 ML / 1.0 FL OZ Our skin perfecting mandelic serum is formulated with mandelic acid, natural fruit extracts and niacinamide to gently exfoliate ...
View product page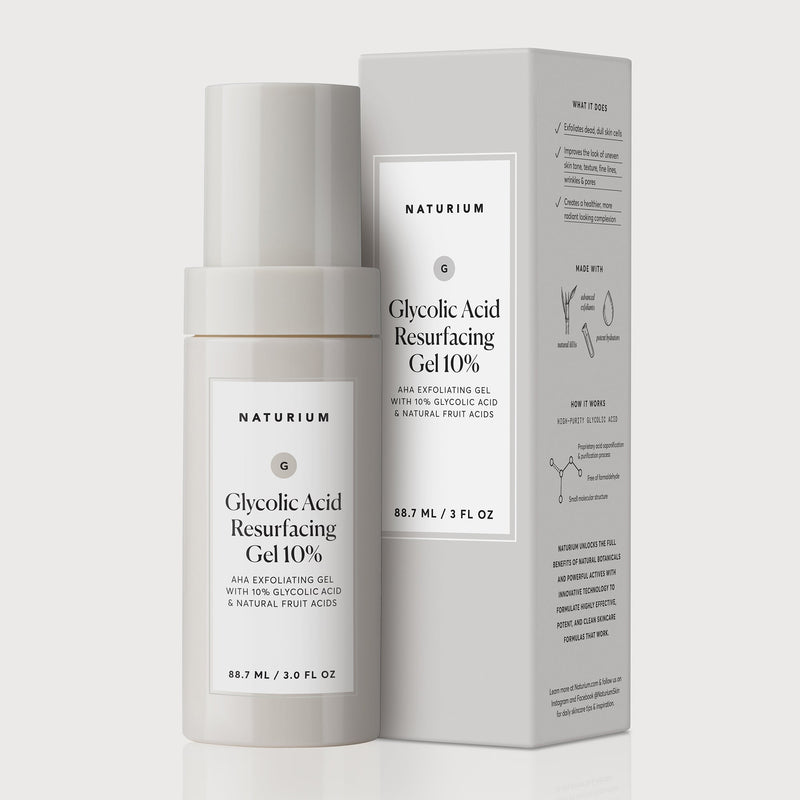 Glycolic Acid Resurfacing Gel 10%
3.0 FL OZ / 88.7 MLOur AHA exfoliating gel is formulated with 10% high-purity glycolic and natural fruit acids that resurface skin to improve the l...
View product page