Using Mandelic Acid and Niacinamide Together
The Science Behind It...
Overall clinical data on a specific ingredient(s) & how they function.
THE SCIENCE BEHIND IT…
OVERALL CLINICAL DATA ON SPECIFIC INGREDIENT(S) & HOW THEY FUNCTION:
Can You Use Mandelic Acid and Niacinamide Together?
Yes, mandelic acid and niacinamide can be used together, including by those with sensitive skin for exfoliating benefits and improved topical skin texture and tone.
What Does Mandelic Acid Do for The Skin?
Mandelic acid is known as a gentle, but highly effective, exfoliant that offers improved skin tone, texture, and visual radiance. Scientific data has shown it can help support increased cell turnover and improved skin firmness, as well as help improve discoloration for a more even, radiant complexion.
Helps even skin tone

Helps reduce discoloration caused by photodamage

Smooths irregular skin texture

Brightens the look of skin
Who Should Use Mandelic Acid?
Mandelic acid is ideally suited for a broad range of skin types, including sensitive skin. For individuals with problem skin and/or tone and texture concerns, mandelic acid is an effective exfoliant that is gentler than many other alpha-hydroxy acids due to its large molecular weight.
What Does Niacinamide Do for The Skin?
Niacinamide has been shown to improve the overall appearance of skin, reducing the look of discoloration, smoothing texture, and supporting the skin's efficacy as a protective barrier. Its ability to support the production of ceramides contributes to enhanced skin firmness while boosting moisture retention to prevent dehydration. Niacinamide also helps clear pore congestion while balancing oil production.
Benefits of Niacinamide
Supports a more even skin texture and tone

Visibly helps fade dark spots and other signs of UV-related damage

Helps reduce the appearance of visibly-enlarged pores

Helps prevent moisture loss and the impacts of environmental stressors

Increases radiance
Who Should Use Niacinamide?
Niacinamide can benefit individuals seeking to improve the tone and texture of their skin, including those with sensitive, dry, and/or problem skin. It is ideal for individuals hoping to achieve brighter skin and boost overall skin health and appearance.
Layering Mandelic Acid and Niacinamide
Layer your products based on water content and consistency. Start with products that are thin and primarily water based such as toners, essences, and serums. Follow with products that have higher oil content and are thicker such as your lotions, moisturizers, and facial oils. Mandelic Acid exhibits both oil and water solubility and may be incorporated into any of the aforementioned formats. Niacinamide is water based and will be incorporated into water based products.
As an alpha-hydroxy acid, mandelic acid can increase your skin's sensitivity to the sun. Therefore, proper use of daily sunscreen is essential.
How Often Can Mandelic Acid and Niacinamide Be Used Together?
Mandelic acid and niacinamide can be combined on a daily basis, but it is suggested that you begin with less frequent use to assess your skin's tolerance level. Consider starting with using mandelic acid and niacinamide 2-3 times per week, then work up to incorporating the duo as part of your everyday routine.
DISCLAIMER: Lab Journals are intended to help educate on specific ingredients and skin care topics. Our articles are written to be informative and informational.
Please note any Naturium products with referenced ingredients are formulated for Cosmetic Use Only and NOT intended as replacements for physician pharmaceutical product recommendations. Mandelic Topical Acid 12%
30 ML / 1.0 FL OZ Our skin perfecting mandelic serum is formulated with mandelic acid, natural fruit extracts and niacinamide to gently exfoliate ...
View product page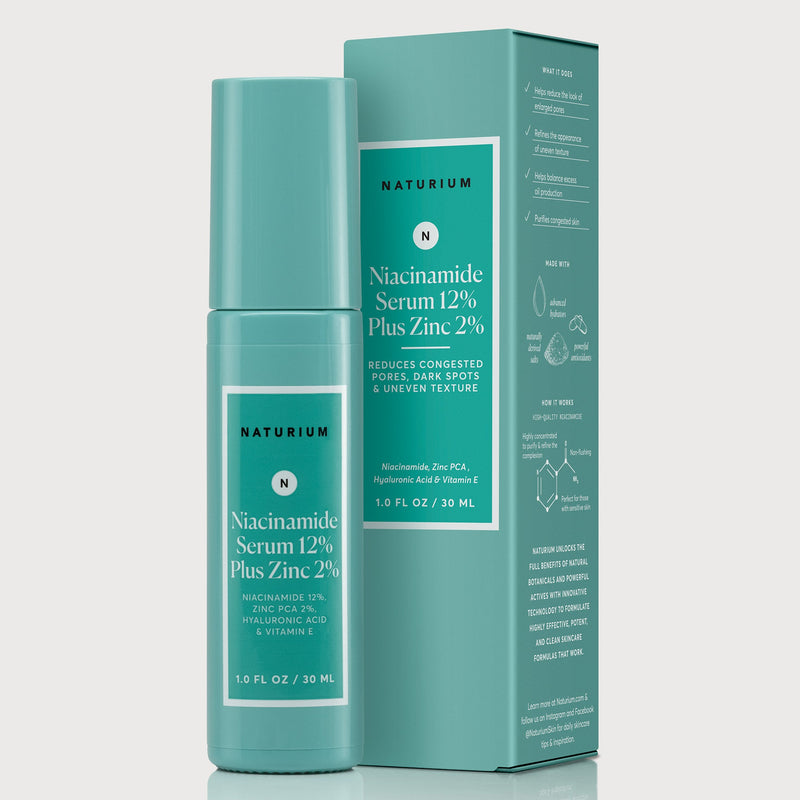 Niacinamide Serum 12% Plus Zinc 2%
30 ML / 1.0 Fl OZ New look, same great formula!Our concentrated serum is formulated with pure 12% niacinamide and 2% zinc PCA, and is clinically pr...
View product page