Using Tranexamic Acid and Niacinamide Together
The Science Behind It...
Overall clinical data on a specific ingredient(s) & how they function.
Can You Use Tranexamic Acid and Niacinamide Together?
Yes, using tranexamic acid and niacinamide together is generally safe for all skin types and tones. In fact, layering tranexamic and niacinamide can boost the efficacy of their overall effects.
What Does Tranexamic Acid Do for The Skin?
Tranexamic acid is a highly effective skin brightener, ideal for fading discoloration related to hyperpigmentation, melasma, sun exposure, and/or scarring. It is a synthetic derivative of the amino acid lysine, and works by regulating melanin overproduction to target dark spots and improve overall skin tone and luminosity. Tranexamic acid combats discoloration of various types and causes, and can produce particularly excellent results when combined with other skin brightening agents.
Benefits of Tranexamic Acid
Fades dark spots and skin discoloration

Reduces the appearance of acne scarring, hyperpigmentation, and melasma

Brightens complexion
Who Should Use Tranexamic Acid?
All skin types and tones can safely use tranexamic acid, including those with sensitive skin. It is a well-suited option for individuals with hyperpigmentation, melasma, acne scarring, and other challenges with skin discoloration and uneven tone.
What Does Niacinamide Do for the Skin?
Niacinamide is a highly stable form of Vitamin B3 that supports smoother, more even skin and improved texture. By supporting the effective production of ceramides, niacinamide strengths the skin's protective barrier and enhances moisture retention. Additionally, it inhibits both proinflammatory cytokines and fatty acids, reducing the occurrence of acne breakouts, sensitivity, and irritation. Skin appears brighter, smoother, and clearer, for a noticeable improvement in overall appearance.
Benefits of Niacinamide
Improves skin tone and texture

Diminishes dark spots and other visible signs of sun damage

Boosts skin brightness and luminosity

Provides anti-acne and anti-inflammatory benefits

Decreases the appearance of enlarged pores

Supports a stronger skin barrier for improved hydration and protection
Who Should Use Niacinamide?
Niacinamide is a versatile ingredient for improving skin texture and tone, refining the overall appearance of skin while simultaneously increasing radiance. It is suitable for individuals with sun-damaged, dry, and/or acne-prone skin, including those with easily-irritated skin.
Layering Tranexamic Acid and Niacinamide
When determining how to layer tranexamic acid and niacinamide, the recommended sequence depends on the specific products being used. Tranexamic acid is an active found in serums, tones, and moisturizes, so the selected product form should guide its placement in your skincare routine. However, it is most common to find tranexamic acid in serum form, which can be used immediately before niacinamide.
In the morning, use tranexamic acid and niacinamide before sunscreen; at nighttime, layer it under your preferred retinoids/retinol.
How Often Can Tranexamic Acid and Niacinamide Be Used Together?
While tolerability may differ per individual and therefore dictate frequency of use, tranexamic acid and niacinamide are typically well tolerated skincare ingredients and can be used both morning and night.
DISCLAIMER: Lab Journals are intended to help educate on specific ingredients and skin care topics. Our articles are written to be informative and informational.
Please note any Naturium products with referenced ingredients are formulated for Cosmetic Use Only and NOT intended as replacements for physician pharmaceutical product recommendations. Tranexamic Topical Acid 5%
30 ML / 1.0 FL OZ Our topical tranexamic acid serum is formulated with a potent level of tranexamic acid, plus kojic acid, niacinamide and licorice...
View product page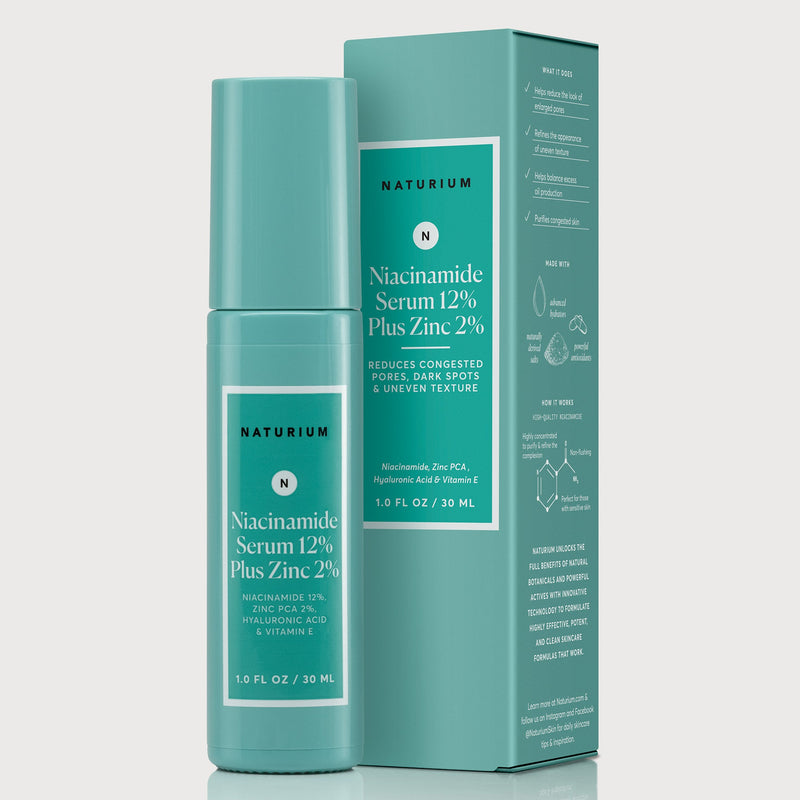 Niacinamide Serum 12% Plus Zinc 2%
30 ML / 1.0 Fl OZ New look, same great formula!Our concentrated serum is formulated with pure 12% niacinamide and 2% zinc PCA, and is clinically pr...
View product page