5 Things You Didn't Know About Hyaluronic Acid
The ultimate hydrator, hyaluronic acid's topical benefits read like a laundry list of skin care goals: Moisturizing, plumping, softening, glow-inducing—the list goes on. All of these benefits stem from hyaluronic acid's humectant properties, which help keep skin supple and healthy. As popular as this skin care ingredient is, many myths, misunderstanding and plain unknowns still circulate about hyaluronic acid.
Here, we're sharing 5 things you probably don't know about hyaluronic acid for skin.
THE SCIENCE BEHIND IT…
OVERALL CLINICAL DATA ON SPECIFIC INGREDIENT(S) & HOW THEY FUNCTION:
1. HYALURONIC ACID IS NATURALLY FOUND IN THE BODY
The term 'acid' might make you think otherwise, but hyaluronic acid is an all-natural substance. To be specific, it's a natural polysaccharide (carbohydrate molecule) hydrator that's found in human biological tissues, including the skin, connective tissues (joints) and eyes. Research has found that half of all hyaluronic acid in the body is contained in the skin.
As is the case for other natural skin-strengthening components, such as collagen and elastin, our bodily reserves of hyaluronic acid deplete with age. Other lifestyle factors, including unprotected exposure to UV rays, pollution and tobacco smoke, can speed up this natural decline. This decline can take form in skin that is dry, sagging and showing signs of premature aging. Replenishing hyaluronic acid levels with a topical serum or moisturizer is therefore key in restoring natural hydration and skin barrier function.
2. IT CAN ABSORB 1,000 TIMES ITS WEIGHT IN WATER
Hyaluronic acid molecules bind to and absorb water—up to 1,000 times their own weight—which is precisely what makes this ingredient such a potent topical hydrator. When applied daily, hyaluronic acid can help increase moisture retention in the skin, plump fine lines and wrinkles, and even repair the skin's natural lipid barrier.
3. MOLECULAR WEIGHT MATTERS
When it comes to hyaluronic acid, the size of each molecule (known as molecular weight) influences how effectively the ingredient is absorbed by the skin. In simple terms, larger (high) molecules sit higher on top of the skin's surface, while smaller (medium and low) molecules penetrate the skin on a deeper level. To reap the most benefit, look for a hyaluronic acid serum that contains multiple molecular weights, so as to address every layer of the skin. As its name implies, Naturium's Quadruple Hyaluronic Acid Serum 5% is formulated with four different molecular weights of hyaluronic acid—very low, low, medium and high—which allows for deep hydration on multiple skin levels.
4. HYALURONIC ACID PAIRS WELL WITH OTHER SKIN CARE INGREDIENTS
There are a lot of myths out there in regard to combining different active skin care ingredients, but none of them pertain to hyaluronic acid. This ingredient plays well with others; combine it with retinol, peels, other acids and neither irritation nor ineffectiveness will ensue. Serums are generally considered one of the best ways to reap the benefits of hyaluronic acid, and they should be layered on post-cleansing and pre-moisturizing.
5. SODIUM HYALURONATE IS DERIVED FROM HYALURONIC ACID
Another hydrating skin care ingredient called sodium hyaluronate is actually a salt that is derived from hyaluronic acid. Neither ingredient is better nor worse than the other, although they are particularly potent when paired together into one formula—Naturium thought of this too, which is why the Quadruple Hyaluronic Acid Serum also contains sodium hyaluronate. Apply an even layer onto your face, neck and chest every day, up to twice per day, and layer your go-to moisturizer on top.
DISCLAIMER:
Lab Journals are intended to help educate on specific ingredients and skin care topics. Our articles are written to be informative and informational.
Please note any Naturium products with referenced ingredients are formulated for Cosmetic Use Only and NOT intended as replacements for physician pharmaceutical product recommendations.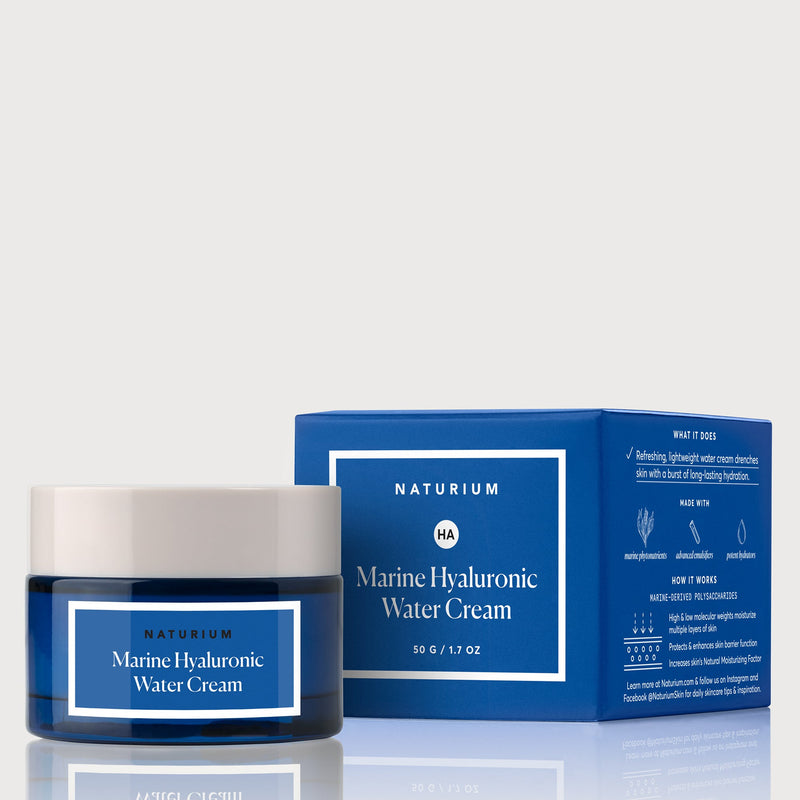 Marine Hyaluronic Water Cream
50 G / 1.7 OZ Our next-generation water cream is formulated with marine-based polysaccharides, hyaluronic acid and phytonutrients to provide skin ...
View product page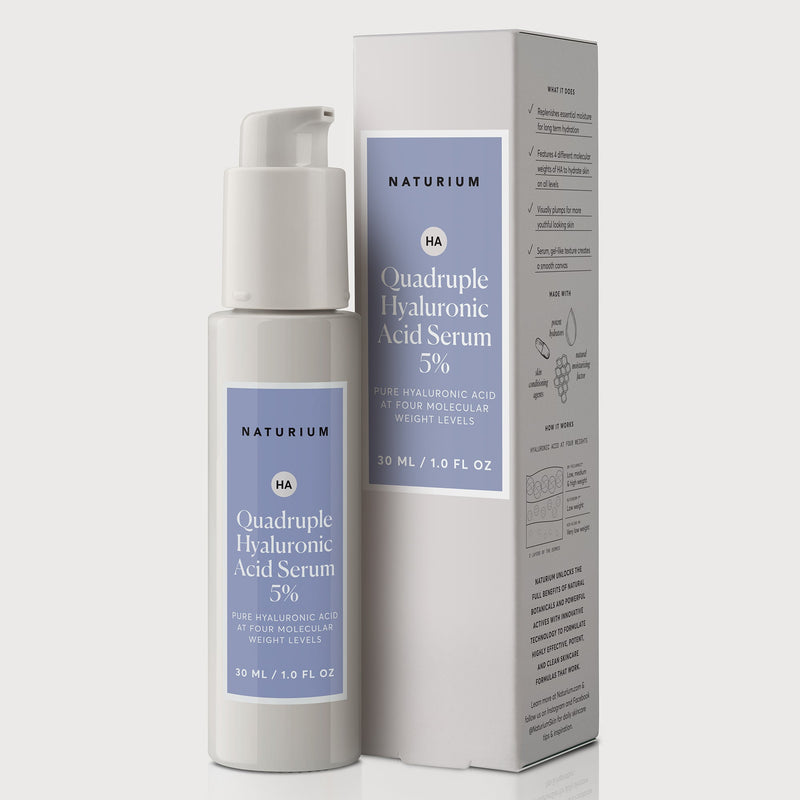 Quadruple Hyaluronic Acid Serum 5%
30 ML / 1.0 FL OZ Our hyaluronic acid serum combines very low, low, medium and high molecular weight pure hyaluronic acid to hydrate and leave skin...
View product page