Let's talk a gold-standard industry ingredient: retinol. If you're looking for something nearly guaranteed to reduce the signs of aging and dark spots, this is it. Here's why we love retinol…
THE SCIENCE BEHIND IT…
OVERALL CLINICAL DATA ON SPECIFIC INGREDIENT(S) & HOW THEY FUNCTION:
WHO SHOULD USE RETINOL?
Anyone looking to improve wrinkles, fine lines and enhance the collagen production in their skin. That said, sometimes people with sensitive skin have an issue, so we recommend testing a small area of the face first. If mild irritation or redness occurs, use every other night until your skin adjusts.
WHAT EXACTLY IS RETINOL?
A derivative of vitamin A, retinol stimulates skin cells and encourages the production of collagen. The sped up cell turnover causes your body to create smoother and fresher new skin with less fine lines, wrinkles, dark spots and acne.
WHEN DO YOU USE RETINOL?
For best results, use at night and follow with a moisturizer. If you do apply during the day, make sure to follow with SPF.
WHERE DO YOU USE RETINOL?
You'll want to apply an even layer onto face, neck and chest in the evening, avoiding the eye area.
WHY SHOULD I USE RETINOL?
When you use a well-formulated retinol product it will definitely reduce the appearance of fine lines, wrinkles, sun damage and even acne on your skin. It also improves the skin's overall tone and texture.
WE RECOMMEND
Our advanced serum is formulated with a synergistic blend of microencapsulated retinols and bakuchiol, a plant-derived retinol alternative, that helps improve the look of fine lines, wrinkles, elasticity, uneven tone and overall radiance.
DISCLAIMER:
Lab Journals are intended to help educate on specific ingredients and skin care topics. Our articles are written to be informative and informational.
Please note any Naturium products with referenced ingredients are formulated for Cosmetic Use Only and NOT intended as replacements for physician pharmaceutical product recommendations.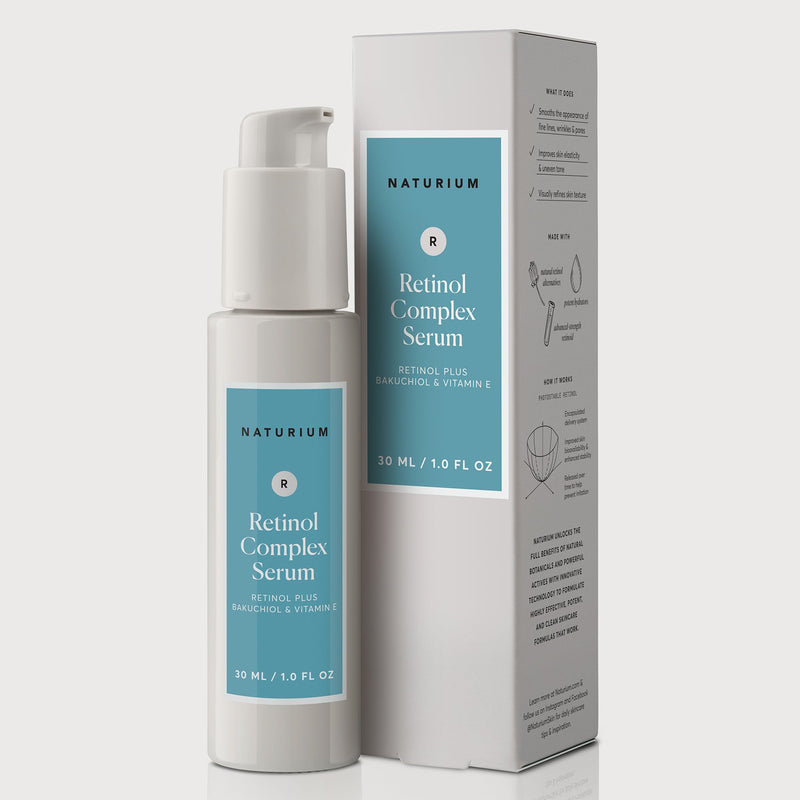 Retinol Complex Serum
30 ML / 1.0 FL OZ Our advanced retinol serum is formulated with a photostable, synergistic blend of encapsulated retinol, a natural bio-retinol and...
View product page