Everything You Need To Know About Our Legendary Multi-Tasker: Vitamin C Super Serum Plus
We've noticed a lot of conversations happening about Vitamin C Super Serum Plus - and we love it! Our inboxes are flooded with exclamations of adoration as well as really great questions about how this serum works. Whether you're a fan or a skeptic, we've heard you loud and clear: you need to know the science behind this serum, it just seems too good to be true. So here it is! This is The Naturium Lab Team explaining how modern technology allows us to achieve the seemingly impossible...Vitamin C Super Serum Plus.
How Modern Technology Allows Us To Achieve the Seemingly Impossible
THE THREE KEY TAKEAWAYS
- Our Vitamin C Super Serum Plus is a water-based cocktail of skincare superstars that perform in synergy with one another.
- While past research indicates that you cannot mix certain "free" active ingredients, new delivery technologies allow these actives to work in harmony to further optimize performance.
- Our advanced delivery systems allow the actives to work independent of formula pH with maximum effectiveness and minimal irritation.
FOUR MYTHS DEBUNKED:
Myth: You can't mix vitamin C with retinol.
False: Encapsulation allows these two actives to work together to deliver antioxidant benefits as well as their individual skin improvements.
Myth: You can't wear retinol during the day.
False: Encapsulation of retinol minimizes interaction with environmental aggressors such as heat and UV (sunlight) to allow for enhanced photo-stability and therefore, daytime use. Of course, we always recommend the use of SPF everyday.
Myth: You can't mix vitamin C with niacinamide.
False: Hydrolysis of niacinamide into nicotinic acid does not occur under normal cosmetic manufacturing or consumer application conditions. Our serum is also formulated at a skin friendly pH since the vitamin C is stabilized in a special delivery system and not pH dependent.
Myth: You can't mix vitamin C with salicylic acid.
False: Since our vitamin C is protected by our special delivery system, salicylic acid and its impact on formula pH doesn't impact the effectiveness of our vitamin C.
Ready to go deeper? Read on to learn more.
Our biocompatible Vitamin C Super Serum Plus uses clinically proven, well-known actives with cutting-edge technology in order to overcome pH restrictions, oxidation restraints, and irritation potential of the more traditional formulas.
L-ascorbic acid is the biologically active form of Vitamin C, the form the body recognizes, and when applied topically protects the skin from oxidative stress, increases collagen synthesis, and reduces hyperpigmentation; however, there are two great drawbacks to using free L-ascorbic acid. The first is that L-ascorbic acid oxidizes quickly in the presence of light, oxygen, and water. The second, is that free L-ascorbic acid can only be transported across the stratum corneum if it is formulated in a product with a pH less than 3.5.1 This is because L-ascorbic acid is an ionic or charged molecule above pH 3.5. Bioactive ingredients (ingredients that have a biological function in the skin) that are ionic or large (over 500 daltons) do not favor penetration and therefore are limited in reaching the site of action to produce a biological effect on the skin. The ideal ingredient is small, uncharged, and the optimal ratio of hydrophilic and hydrophobic which is measured using the octanol-water partition coefficient (logP). If the final pH of a product containing L-ascorbic acid is less than 3.5, the molecule is no longer ionic and is therefore less hindered from penetrating the stratum corneum. Unfortunately, having a pH this low can cause skin irritation. The key word in this whole dilemma is "free" L-Ascorbic Acid. To overcome these strict penetration requirements and improve oxidative stability, delivery systems such as conjugation to gold submicrometric particles can be implemented.
The use of gold particles for transdermal delivery has proven to be an effective carrier of both cosmetic and drug related bioactives.2 Spherical gold submicrometric particles are a favorable option because they are nontoxic to human skin cells, are small enough for penetration, have a high surface to volume ratio, demonstrate good biocompatibility, and the surface can be functionally modified. L-ascorbic acid can be conjugated to these gold particles to prevent oxidation of the vitamin C. The bonds only break under physiological conditions. This means the vitamin C is not pH dependent and will remain in the reduced and active form until it reaches the intended site of action in the skin at which point the bond breaks releasing the biologically active ascorbic acid. To further enhance the efficacy of ascorbic acid, antioxidants such glutathione can be added. Glutathione is an antioxidant found naturally in the body that modulates Vitamin C activity, regenerating the vitamin C as it quenches free radicals.
Our Vitamin C Super Serum Plus utilizes gold submicrometric particles to aid in the stability and delivery of vitamin C and glutathione. Without the pH restrictions of vitamin C, we were able to formulate our Vitamin C Super Serum Plus at a skin friendly pH. In addition to Vitamin C, we added Niacinamide to our Vitamin C Super Serum Plus. Niacinamide is also a powerhouse vitamin that benefits every skin type. We used a high purity niacinamide to limit the presence of nicotinic acid, a vasodilator that can cause skin flushing as well as a possible sensitizer. Our skin-perfecting serum also contains salicylic acid, a well known organic acid naturally found in willow tree bark. Salicylic acid functions as a peeling agent to break down the glue holding the corneocytes together to increase cell shedding. Like L-ascorbic acid, salicylic acid shows a pH-dependent skin irritancy, however; salicylic acid's efficacy is not as pH dependent as vitamin C or the alpha hydroxy acids.3,4 Our Vitamin C Super Serum Plus is formulated at a skin friendly pH for gentle exfoliation and skin soothing.
Finally, to create a universal, well-rounded, biocompatible serum we added retinol. Retinol is the gold standard when it comes to reversing signs of aging. It works by increasing epidermal thickness, boosting collagen production, and speeding up cell renewal making skin firmer, smoother, and more radiant. Unfortunately, traditional retinol and retinoids have a number of setbacks. Anyone that has used traditional retinol products can attest to the irritation, flaking, and erythema at the start of use. Retinol and retinoids are also chemically and thermally unstable molecules. They are polyunsaturated compounds, having a number of carbon carbon double bonds, which make them degrade and oxidize in the presence of oxygen, UV, and visible light. This renders them inactive as well as creates reactive oxidative species.5This led to retinol being formulated only in night products with directions urging the avoidance of the sun. However, our Vitamin C Super Serum Plus contains a highly stabilized, sustained release encapsulated retinol to overcome the setbacks of traditional retinol. Our natural, biodegradable lipid encapsulation protects the retinol from external sources such as UV and oxygen that could degrade the active. It significantly improves photostability allowing for new applications and in the case of our Vitamin C Super Serum Plus, create a day product with retinol.6In fact, our encapsulated retinol pairs perfectly with L-ascorbic acid as both provide antioxidant benefits that counteract photoaging.7One study found that sunscreens only block 55% of UV induced free radicals; therefore, adding an antioxidant to your skincare regimen is crucial for skin health.8Our encapsulated retinol does not counteract or inactivate the vitamin C, niacinamide, or salicylic acid in the formula.
We developed our Vitamin C Super Serum Plus with traditional actives paired with new technology to achieve the impossible. We packed all these bioactives into one functional, efficacious, and most importantly biocompatible serum to cater to the minimalist and those that want the guess-work taken out of their skincare regimen without sacrificing results.
Originally published May, 20, 2020. Updated Apr 14, 2022 with additional information.
DISCLAIMER:
Lab Journals are intended to help educate on specific ingredients and skin care topics. Our articles are written to be informative and informational.
Please note any Naturium products with referenced ingredients are formulated for Cosmetic Use Only and NOT intended as replacements for physician pharmaceutical product recommendations.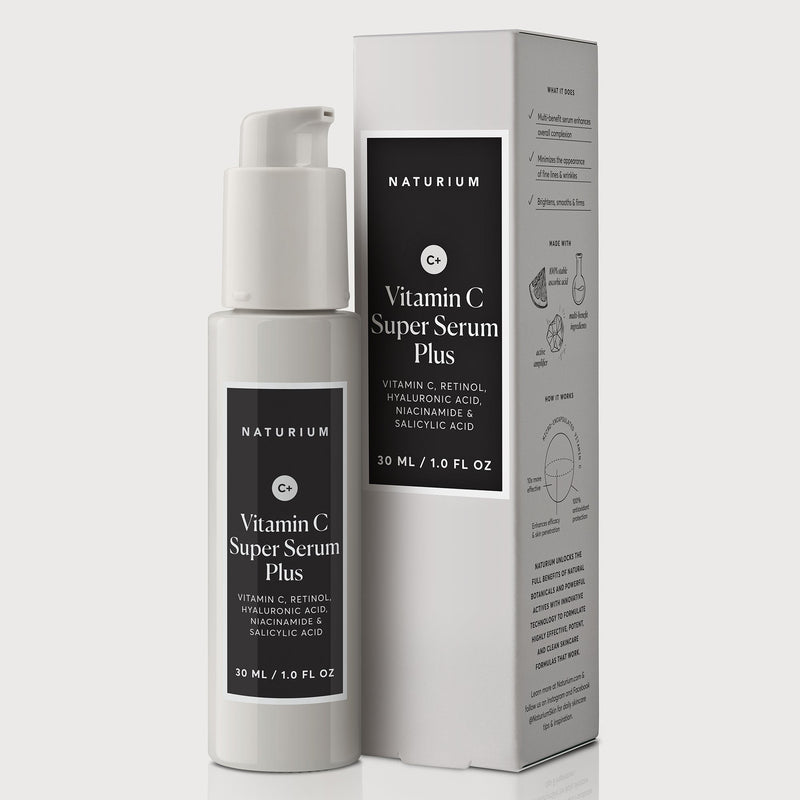 Vitamin C Super Serum Plus
30 ML / 1.0 Fl OZ Our supercharged, multi-benefit serum is formulated with vitamin c, retinol, hyaluronic acid, niacinamide and salicylic acid to h...
View product page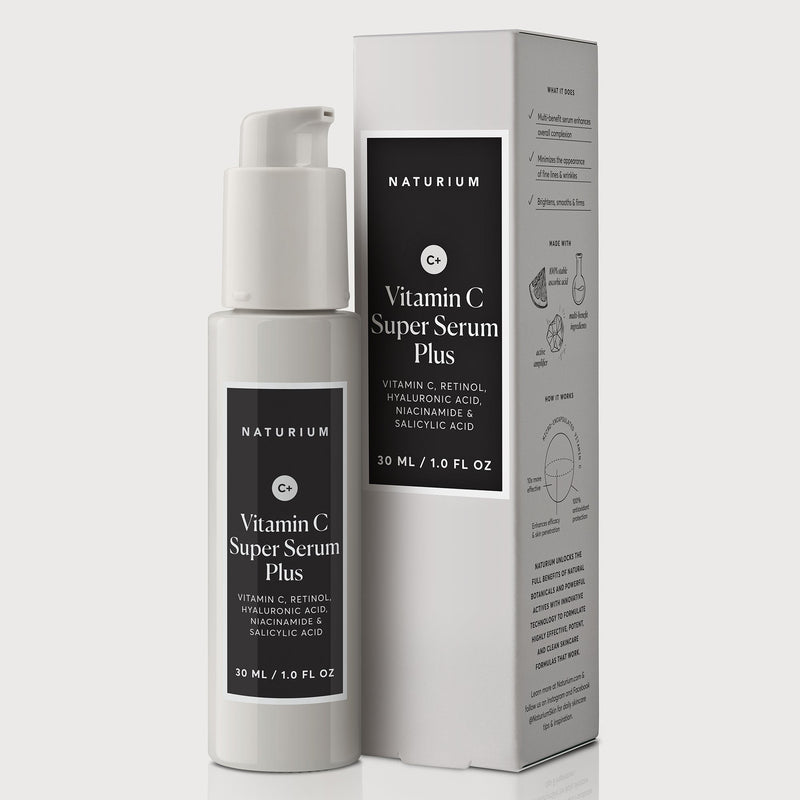 Vitamin C Super Serum Plus
30 ML / 1.0 Fl OZ Our supercharged, multi-benefit serum is formulated with vitamin c, retinol, hyaluronic acid, niacinamide and salicylic acid to h...
View product page