Everything you Need to Know About Peptides
We've all heard about peptides in skincare but what are they exactly? Often synonymous with younger, more youthful looking skin, peptides are an extremely beneficial skincare ingredient that works wonders on the skin. In this lab journal, we take a deep dive into the material, how they function and why they are a great addition to your skincare routine.
THE SCIENCE BEHIND IT…
OVERALL CLINICAL DATA ON SPECIFIC INGREDIENT(S) & HOW THEY FUNCTION:
There are 20 naturally occurring amino acids in the body which combine in unique sequences and lengths to create peptides, short chain amino acid polymers, and proteins, long chain amino acid polymers. Peptides are ubiquitous in the body and there are hundreds of peptides with vastly different functions. The use of peptides in cosmetics is still an emerging field with new development, research, and potential. Generally peptides are used in cosmetic products as opposed to proteins such as collagen, since proteins are much larger in structure and cannot penetrate the skin easily. Sometimes proteins are enzymatically hydrolyzed or chopped up into smaller parts or peptides to enhance penetration. Cosmetic peptides are mostly synthetic and specially crafted for specific biological functions and optimized for stability and skin penetration. One popular modification to enhance penetration is the addition of a palmitoyl group to make the peptide more oil soluble.1 Naturally occurring peptides are large, water soluble, and charged at physiological pH all factors that disfavor penetration through the stratum corneum.
Cosmetic peptides are classified into five groups based on function: enzyme inhibitor peptides, carrier peptides, neurotransmitter inhibitor peptides, antimicrobial peptides, and signaling peptides.2 Enzyme inhibitor peptides directly or indirectly inhibit enzymes in the body such as tyrosine, responsible for melanin production, and MMPs, which break down collagen. Carrier peptides facilitate transport of crucial trace elements such as copper and manganese, necessary in wound healing and enzymatic processes. Neurotransmitter inhibitor peptides inhibit acetylcholine release needed for muscle contractions, thus reducing expression lines and wrinkles. Antimicrobial peptides have antimicrobial activity, wound healing potential, and improve the skin's innate immunity.3 Finally, signaling peptides increase matrix protein production within skin, especially collagen, by exploiting the skin's natural rejuvenation feedback loop.
The Naturium Difference

Our Multi-Peptide Eye Cream uses a blend of 3 palmitoylated (contain a palmitoyl group for enhanced penetration) signaling peptides to enhance collagen production, boost hyaluronic acid synthesis, reduce inflammatory markers, and overall improve the appearance around the eye. Together palmitoyl tripeptide-5, palmitoyl tripeptide-1, and palmitoyl tetrapeptide-7 improve skin roughness, help reduce crow's feet, improve skin hydration, and is known to help increase skin firmness and elasticity around the eye area.
Palmitoyl Tripeptide-5 is a signaling peptide composed of amino acids in a sequence analogous to the protein thrombospondin 1 (TSP-1), known to activate a growth factor crucial for the stimulation of type 1 and type III collagen.4 This peptide communicates with cells to increase collagen production, which will help reduce the appearance of wrinkles and crow's feet, increase elasticity, and plump the skin from within. Both palmitoyl tetrapeptide-7 and palmitoyl tripeptide-1 are naturally occurring peptides in skin that are released from the extracellular matrix and start a signaling cascade to produce skin matrix components such as collagen, fibronectin, and hyaluronic acid. These signaling cascade peptides are called matrikines and are fragments of natural macromolecules in the skin matrix.5 The skin notices these matrikines and interprets the increase of fragmented macromolecules as degradation of the extracellular matrix and therefore helps increase production of skin matrix components. Using matrikines like palmitoyl tetrapepide-7 and palmitoyl tripeptide-1 in cosmetics exploits the body's natural regulation process and induces dermal remodeling producing collagen, hyaluronic acid, and fibronectin.6 Since palmitoyl tripeptide-1 is a fragment of a collagen molecule, fibroblasts in skin believe the collagen is being degraded and is therefore "tricked" into producing more collagen. This peptide makes the skin think it is injured and makes the body replenish skin matrix components including fibronectin and hyaluronic acid. Palmitoyl tetrapeptide-7 is a fragment of immunoglobulin-G which helps reduce interleukin-6 (IL-6) , an inflammatory marker that increases degradation of the skin matrix leading to sagging, wrinkled, and sensitive skin. This peptide supports the skin matrix and reduces inflammaging.
Our peptide blend also helps regulate the expression of progerin, a marker for senescence or "zombie cell" formation thus rejuvenating the skin and keeping cells healthy and functioning. Together these peptides restructure the scaffold of the under-eye, increasing the skin barrier, smoothing skin texture, filling in crow's feet, and restoring skin. Our Multi-Peptide Eye Cream pairs these scientifically advanced peptides with bioactives for a marriage of science and nature. It features vitamin B5 and green microalgae which reduce the appearance of dark eye circles while hydrating the skin. It is also formulated with vegan squalane, a biocompatible emollient and natural component of skin that improves elasticity and suppleness around the delicate eye area. Our marshmallow-textured Multi-Peptide Eye Cream restructures the eye contour, smooths the look of fine lines and wrinkles, improves tone and elasticity, and reduces the appearance of dark circles.
Our new Multi-Peptide Moisturizer also features peptides. Our moisturizer palmitoyl tripeptide-5, palmitoyl tripeptide-1, and palmitoyl tetrapeptide-7 with the addition of small natural peptides from Sacha Inchi. Usually natural peptides are too large to penetrate but our bio-based peptides come from Sacha Inchi seeds that undergo a proprietary manufacturing process to create a specific composition consisting of small natural peptide fragments with low average molecular weight. These peptides are of natural origin but processed to be more bioavailable. These small peptides are signaling peptides which visibly restore skin firmness, elasticity, and suppleness by upregulating two of the genes responsible for the extracellular matrix organization and repair, namely Connective Tissue Growth Factor (CTGF) and the Human Longevity Master Switch Gene (FOXO3). Our Multi-Peptide Moisturizer combines these natural peptides with synthetic signaling peptides to plump and rejuvenate sagging and dehydrated skin while niacinamide, encapsulated ethylated vitamin C, and magnolia bark bioactives lighten, brighten, and reveal a healthy, radiant glow. Our Multi-Peptide Moisturizer helps target the look of uneven texture, fine lines and wrinkles, and dullness to provide a more youthful looking complexion. Peptide products are easy to incorporate into any skincare regimen, are suitable for all skin types, and are definitely worth all the hype.
DISCLAIMER:
Lab Journals are intended to help educate on specific ingredients and skin care topics. Our articles are written to be informative and informational.
Please note any Naturium products with referenced ingredients are formulated for Cosmetic Use Only and NOT intended as replacements for physician pharmaceutical product recommendations.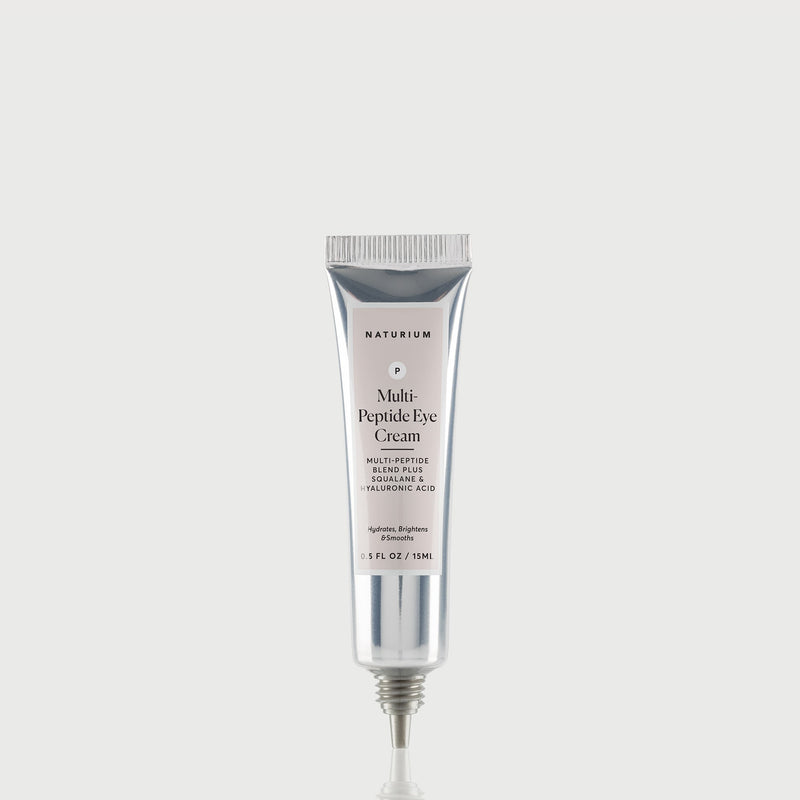 Multi-Peptide Eye Cream
15 ML / 0.5 FL OZ Our silky and lightweight eye cream is formulated with peptides, including Argireline® Amplified peptide, to help smooth and impr...
View product page
Multi-Peptide Moisturizer
1.7 OZ / 50 G Our nutrient-dense peptide moisturizer is formulated with our multi-peptide blend, encapsulated ethylated vitamin C and panthenol to...
View product page