Different Types of Cleansers, Explained
Cleansing is arguably the most important step in any skincare routine. With so many cleansers to choose from, here's your guide on different cleansing formats. Read more to find out what makes the various formats different and see what works best for your skin type.
THE SCIENCE BEHIND IT…
OVERALL CLINICAL DATA ON SPECIFIC INGREDIENT(S) & HOW THEY FUNCTION:
Cleansing is a crucial part of any skincare routine. Excess sebum, dead skin cells, and environmental pollutants can clog pores, create free radicals, accelerate the aging process, and lead to dull, irritated, and congested skin. Cleansing not only rids the skin of impurities, but also increases the penetration and efficacy of your serums and skincare products. Everyone should be using a cleanser, but the format and type is versatile and very personal.

Cleansers have evolved from the original bar soap, based on saponification of triglycerides from tallow or coconut oil. Soap bars have a high pH, which can cause skin dryness and irritation, thus leading to the development of syndet bars and later liquid cleansers. Cleansers have the same goal (to clean the skin), but are offered in a number of different formats such as emulsions, powders, oils, D Phase gels, and water-based surfactant cleansers. Much can be said about each format, but selecting a cleanser comes down to personal preference.

Emulsion Cleansers: This format is great for those with dry skin and encompasses cold creams and cleansing milks. Emulsion cleansers are opaque and non-foaming, and tend to leave a little residue behind for increased moisture. Cold creams are thick creams, typically high in mineral oil and thickened with beeswax and are intended to dissolve makeup and sebum and then be wiped off. They are not rinsed off, so leave skin soft and hydrated due to their high oil content. For those wanting less residue on the skin, stick with a cleansing milk, which is a thinner emulsion that is rinsed off the face after emulsifying makeup and excess facial oils.

Powder Cleansers: This format is great for exfoliating, or getting a deep clean. Rice powder or kaolin replace water as the main bulking ingredient and provide a degree of exfoliation depending on the particle size. Powder cleansers contain concentrated surfactants and foam once water is added. These are very concentrated cleansers and only a little is needed to clean. They can sometimes be drying and work better for normal to oily skin types or less frequent use.

Anhydrous Oil Cleansers: These cleansers are composed of oils or esters that dissolve sebum, sunscreen, and makeup. They contain oil soluble surfactants that are polar enough to remove the oils and impurities from the skin surface, once in contact with water. These types of cleansers can be thin, gelled, or thickened to a balm, but they all serve the same purpose of dissolving and removing stubborn oil soluble impurities. They are popular in double cleansing where they are followed by a cleansing milk or foaming cleanser to remove any residual oil. Oil cleansers can act as sacrificial oil for foaming cleansers, preventing the foaming cleanser from potentially stripping your natural skin lipids. Oil cleansers are great for dry to normal skin but when used as part of a double cleanse they are suitable for all skin types.

D Phase Gel Cleansers: These relatively new and very innovative cleansers are like second generation oil cleansers. A D Phase Gel is a concentrated emulsion with a characteristic translucent/transparent appearance that contains high levels of oil in addition to a glycol or glycerin with very little water. When diluted with water, these gels spontaneously become milky oil-in-water emulsions. Unlike anhydrous oil cleansers, they provide the hydrating benefits of humectants like glycerin with a cleaner rinse off since they have more polarity and a small degree of water. D Phase Gels can be used as the first step in a double cleanse as well. Our Fermented Camellia Creamy Cleansing Oil is a D Phase Gel that contains natural, biodegradable sugar esters that gently breakdown sebum, makeup, and sunscreen while acting as humectants themselves drawing moisture to the skin. They provide long term moisture even after rinse off. Our Fermented Camellia Creamy Cleansing Oil features fermented camellia oil and camellia extract for a glowing complexion and a blend of phytonutrient rich jojoba oil, chia seed oil, and moringa seed oil to imbue the skin with lasting hydration.
Water-based Surfactant Cleansers: This format is the most popular and encompasses a wide range of products from gel cleansers to micellar cleansers and clay cleansers to creamy foaming cleansers. What they have in common is the use of water as the main solvent with the addition of detergent type surfactants that create micelles to remove impurities from the skin. While we all love a good lather, foam is not necessary for cleansing. You typically only need 3-4% surfactant to achieve micelle formation. Micelles are the spherical balls of surfactant molecules oriented to trap oil soluble ingredients such as sebum, sunscreen, and makeup within and enabling these impurities to be easily removed from the skin. This is the basis of your micellar cleanser which contains low levels of nonionic surfactant to gently cleanse the skin without the need to rinse-off with water. Micellar cleansers don't foam much but are good for sensitive skin as they contain low surfactant concentrations and therefore have low irritation potential.1

For a rich lather that provides more of a luxurious experience, higher levels of surfactants are used. There are a number of different types of surfactants that can be combined to create various textures, foam type, and experience. These surfactants vary in charge, chain length, chemical composition, and origin and when combined, create unique and innovative products. Our Mixed Greens Nutrient Rich Cleanser and Niacinamide Cleansing Gelee are two offerings that elevate the cleansing experience. Our Mixed Greens Nutrient Rich Cleanser is a plush antioxidant-rich cleanser with a daily dose of greens that melts away makeup and gently removes all traces of the day. It contains biodegradable, coconut-derived surfactants that deeply cleanse and clarify pores without irritating, stripping natural lipids, or disrupting the skin's natural pH. Our Niacinamide Cleansing Gelee has a very different and unique texture. It can be used on both dry and damp skin and breaks on contact, like a serum. It contains surfactants derived from both coconuts and an amino acid and is formulated with a clinical level of niacinamide.
Water-based surfactant cleansers can also incorporate chemical exfoliants, enzymes, or physical exfoliants to enhance the cleansing potential of a product through exfoliation and removal of dead skin cells. The most common chemical exfoliant found in cleansers is salicylic acid. Salicylic acid is present in many acne cleansing products as it is a more oil soluble chemical exfoliant that can penetrate the skin and break down sebaceous filaments. Proteolytic enzymes, often fruit based, are becoming more trendy in cleansers. These enzymes break down the corneodesmosomes that hold together corneocytes or skin cells found in the stratum corneum. Excess dead skin cells make the skin look uneven and dull and can trap sebum and bacteria. Physical exfoliants can be added to a cleanser to physically polish and buff the skin surface removing stubborn debris and dry skin. Old school exfoliating cleansers relied on polyethylene and plastic beads which have a negative impact on the environment while the original more natural exfoliating cleansers contained large, uneven, and abrasive particles such as apricot seeds which can create microtears and damage the skin. Our Naturium Fermented Rice Enzyme Cleanser removes not only surface impurities with a gentle amino acid based surfactant but polishes the skin with fruit enzymes and natural, biodegradable micro-powders. The powders used are small and uniform to ensure minimal irritation with maximum efficacy. By combining both enzymes and physical exfoliants, our Fermented Rice Enzyme Cleanser refines and brightens to provide a uniform and smooth complexion.

Your cleansing routine will probably transition due to change in season, age, skin concerns, or hormones. What is important is wiping the day away and starting with a clean slate before you begin your skincare routine.


DISCLAIMER:
Lab Journals are intended to help educate on specific ingredients and skin care topics. Our articles are written to be informative and informational.
Please note any Naturium products with referenced ingredients are formulated for Cosmetic Use Only and NOT intended as replacements for physician pharmaceutical product recommendations.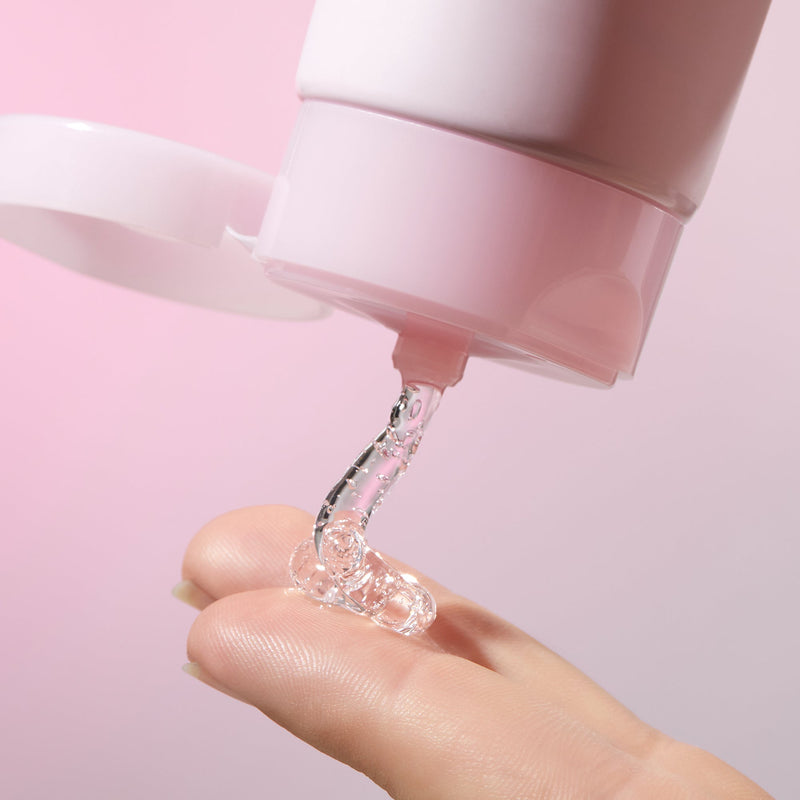 Fermented Camellia Creamy Cleansing Oil
3.5 FL OZ / 103.5 ML Our innovative creamy cleansing oil is formulated with fermented camellia oil, camellia extract and a nourishing blend of lino...
View product page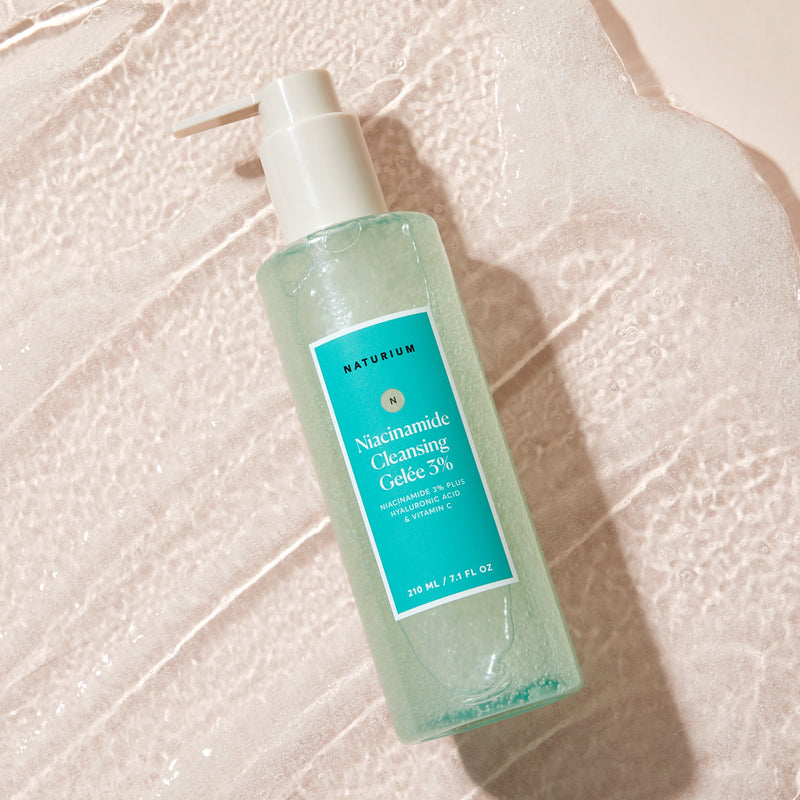 Niacinamide Cleansing Gelée 3%
210 ML / 7.1 FL OZ Our essence-like cleanser is formulated with 3% niacinamide and works to gently dissolve makeup, oil and impurities, while impro...
View product page
Fermented Rice Enzyme Cleanser
4.0 FL OZ / 120 MLOur gentle, yet effective exfoliating face wash is formulated with fermented rice filtrate, fruit enzymes and natural, biodegrada...
View product page