Let's Talk About Preservatives
Preservatives are an integral part of any formulation. They keep products safe from bacteria, but not all preservatives are created equally. Read more to learn more about the importance of preservative systems.
THE SCIENCE BEHIND IT…
OVERALL CLINICAL DATA ON SPECIFIC INGREDIENT(S) & HOW THEY FUNCTION:
Naturium water-based products are formulated with preservatives for the integrity of our formulas and safety of our consumers. Water-based products need broad spectrum protection to inhibit the growth of gram-positive and gram-negative bacteria, yeast, and mold that can not only spoil the product, but also can cause serious health concerns.
Introduction of these microbes is minimal during production, as we follow strict cleaning protocols at our GMP (Good Manufacturing Procedure) certified facilities; however, consumers can unknowingly contaminate their products.1 When formulating, we focus on incorporating preservatives with excellent safety and toxicological profiles that are highly pure and globally compliant.2 One such safe preservative is phenoxyethanol.
Phenoxyethanol is a veteran preservative, used in numerous products on the market, especially products with mildness claims. In nature it is found in chicory and green tea, but synthetically manufactured to yield the highest purity. The European Union and Japan classify this ether alcohol as "safe for topical application," up to 1%. All Naturium products preserved with phenoxyethanol utilize it below this set safety level. Phenoxyethanol has been extensively researched for its impact on both human health and environmental health.3 Negative reports on phenoxyethanol come from animal toxicological studies using phenoxyethanol at levels magnitudes higher than allowable in cosmetics. This well-tolerated, safe preservative does not bind or accumulate in the skin.4 Studies show that topically, it is not carcinogenic, teratogenic, mutagenic, photoxic, or an endocrine-disruptor, and very rarely causes sensitization.5,6 To further ensure consumer and product safety, Naturium products rely on the synergy of preservatives.
We use synergistic blends of preservatives and antimicrobial potentiators at low levels to optimize protection against bacteria, yeast, and mold growth while minimizing skin irritation and sensitization. Antimicrobial potentiators are ingredients that are weak in terms of antimicrobial activity on their own, but synergistically work with preservatives to boost overall preservation. Through synergy we are able to achieve broad spectrum protection and reduce the use level of each preservative, individually. These ingredients can be multifunctional, offering moisturization such as our blend of 1,2-Hexanediol and Caprylyl Glycol, which provides better skin barrier protection than glycerin, against transepidermal water loss. We also use propanediol, which not only reduces water activity, reducing pathogenic growth, but also enhances moisturization.7 All our preservatives and formulas have gone through rigorous safety assessments without any indication of irritation or sensitization potential. Safe and non-irritating preservatives are crucial in our commitment to create biocompatible formulas.
DISCLAIMER:
Lab Journals are intended to help educate on specific ingredients and skin care topics. Our articles are written to be informative and informational.
Please note any Naturium products with referenced ingredients are formulated for Cosmetic Use Only and NOT intended as replacements for physician pharmaceutical product recommendations.
SOURCES:
3Phenoxyethanol as a Safe and Important Preservative in Personal Care J Krowka et al, Cosmetics & Toiletries (online: Apr 23, 2014); print 129(5) 24-27 (Jun 2014)
...
View all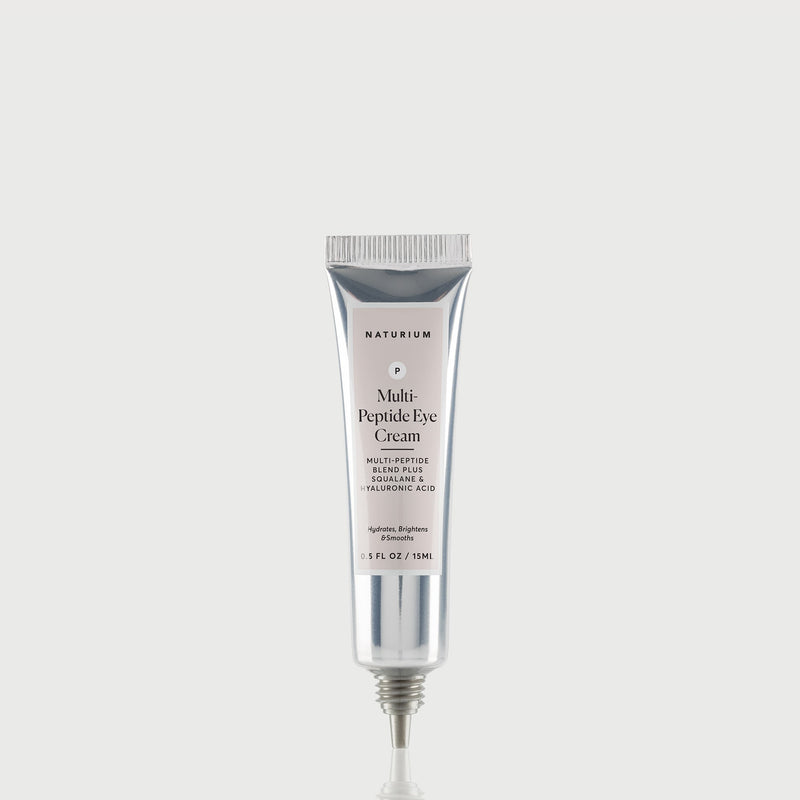 Multi-Peptide Eye Cream
15 ML / 0.5 FL OZ Our silky and lightweight eye cream is formulated with peptides, including Argireline® Amplified peptide, to help smooth and impr...
View product page
Multi-Peptide Moisturizer
1.7 OZ / 50 G Our nutrient-dense peptide moisturizer is formulated with our multi-peptide blend, encapsulated ethylated vitamin C and panthenol to...
View product page