MEET OUR LATEST PRODUCT: AZELAIC ACID EMULSION 10%
It's the year of azelaic acid. Another tried-and-true ingredient, azelaic has a multitude of benefits that we love. This mild, yet efficacious acid is larger in molecular size than other acids, like alpha hydroxy acids, making it a more gentle exfoliant. It works to help reduce skin imperfections such as bumps, post-acne marks, hyperpigmentation, dullness and redness. We especially love this ingredient because it's safe for everyone. If you love our topical already, you'll love our new emulsion, too. Read more to learn about azelaic and our new emulsion.
THE SCIENCE BEHIND IT…
OVERALL CLINICAL DATA ON SPECIFIC INGREDIENT(S) & HOW THEY FUNCTION:
Azelaic Acid is a staple in the dermatologist's office due to its robust ability to address skin conditions such as acne, rosacea, and hyperpigmentation disorders with excellent skin tolerability, all well being safe to use during pregnancy and nursing. Its versatility makes it beneficial when there is clinical overlap or you are experiencing a combination of skin concerns that you want to address at once. This rare gem is backed with significant in vitro and in vivo studies, solidifying both its efficacy and its safety.
Azelaic acid is a dicarboxylic acid, meaning there are two carboxyl functional groups on the molecule, one on each side of the carbon chain. This puts it in a different class than the AHAs, BHAs, and PHAS, which have hydroxyl or OH group(s) along the carbon chain. Due to its high molecular weight it is a more gentle exfoliant and surprisingly doesn't increase skin's vulnerability to UVB or sensitivity to the sun.1
Azelaic acid is a "skin balancing" ingredient, addressing bioprocesses in the skin that are overreacting, and bringing them back to a normal state. This skin normalizer decreases hyperpigmentation without impacting normal skin pigment, acts as an antimicrobial agent to address spots without negatively impacting the skin's microbiome, and remedies a number of overactive enzymes in skin to get healthy looking skin. This is an "all skin types inclusive" ingredient that regulates and brings your skin back to a healthy and vibrant condition.
This is an "all skin types inclusive" ingredient that regulates and brings your skin back to a healthy and vibrant condition.
Diving deeper into the science, azelaic acid acts as a competitive tyrosinase inhibitor, the enzyme involved in melanogenesis, and also targets abnormal melanocytes, organelles that produce melanin or pigment, by inhibiting their DNA synthesis and mitochondrial enzymes.2 Bottom line, it targets the overactive pigment producing cells, without harming those that are functioning normally. It is safe for those wanting to keep their beautiful freckles, as well. Its antioxidant activity reduces the production of reactive oxygen species that cause oxidative damage and lead to hyperpigmentation. This means, it works a little differently than antioxidants like vitamin C that scavenge and neutralize free radicals. It won't whiten or depigment the skin, but will help mitigate melasma and post-inflammatory hyperpigmentation, particularly for darker skin types.3,4 Azelaic acid is a great option to get an even, healthy skin tone.
Azelaic acid was originally used to address acne, as it has antimicrobial, anti-inflammatory, and antikeratinizing properties. In vitro, azelaic acid inhibits and kills p. acnes and staphylococcus epidermidis without creating resistant bacteria or negatively impacting this skin's microbiome.5,6 P. acnes stimulates TLR-2 activity,which results in inflammation, so by killing p.acnes, azelaic acid can help reduce inflammation associated with spots and congestion, making it great for both inflammatory and non-inflammatory congestion. Follicular hyperkeratinization or the buildup of keratin in the sebaceous glands and hair follicles, is another cause of skin congestion. Azelaic acid is an antikeratinizing agent, fixing abnormal shedding of the skin to reduce this buildup and reduce excessive proliferation of the keratinocytes. Azelaic acid keeps the pores clean and clear. Azelaic acid is great for combination skin as it addresses congestion without drying out the skin. Some studies show azelaic acid does not have an impact on sebum secretion composition or rate or size of sebaceous glands while still eliminating blemishes.7 That makes it a stellar alternative to salicylic acid if you are trying to address congestion but are experiencing skin dryness and flaking. Azelaic acid even addresses PIH after breakouts.
If all that wasn't enough for you to be sold on this skin savior, azelaic acid actually helps reduce skin sensitivity, redness, and inflammation. Reactive oxygen species plays a part in hyperpigmentation, acne, and rosacea so it's no surprise that azelaic acid, which addresses all those skin concerns, functions as an antioxidant and reduces oxidative damage.8 Azelaic acid is used in the treatment of rosacea, as it reduces erythema, inflammation and the intensity of telangiectasia.9 Azelaic acid reduces overactive serine protease activity, enzymes that convert antimicrobial peptides such as cathelicidins into pro-inflammatory peptides, bringing balance back to the skin.10
Azelaic acid is inherently difficult to solubilize, as it is neither fully water soluble or oil soluble. This leaves chemists to turn to water soluble derivatives, formulate gritty azelaic acid suspensions, or utilize heavy solubilizers that leave the skin feeling greasy. Our Azelaic Acid 10% Emulsion is a lightweight, creamy and smooth lotion with olive and fermented sugarcane based emollients to glide on without grittiness or greasiness. We paired this skin balancing antioxidant with our bioactive brightening complex which includes fermented colloidal oatmeal and acetylated stilbenes from rhubarb. Stilbenes are antioxidants that reduce inflammation and hyperpigmentation and through acetylation we increased their bioavailability to enhance results. Our lightweight emulsion also utilizes panthenyl triacetate and niacinamide, two forms of vitamin B, as well as allantoin, known to reduce inflammation and irritation for a comfortable skin feel.
Our Azelaic Acid 10% Emulsion helps reduce bumps and even skin texture, improve hyperpigmentation and PIH (post-inflammatory hyperpigmentation), and mitigate redness and irritation. Although "cosmeceutical" is not a true term this ingredient really straddles the fence between cosmetic ingredient and pharmaceutical ingredient and deserves this label. It is a must try ingredient for all.
DISCLAIMER:
Lab Journals are intended to help educate on specific ingredients and skin care topics. Our articles are written to be informative and informational.
Please note any Naturium products with referenced ingredients are formulated for Cosmetic Use Only and NOT intended as replacements for physician pharmaceutical product recommendations.
SOURCES:
3Management of hyperpigmentation in darker racial ethnic groups.Grimes PE Semin Cutan Med Surg. 2009 Jun; 28(2):77-85.
...
View all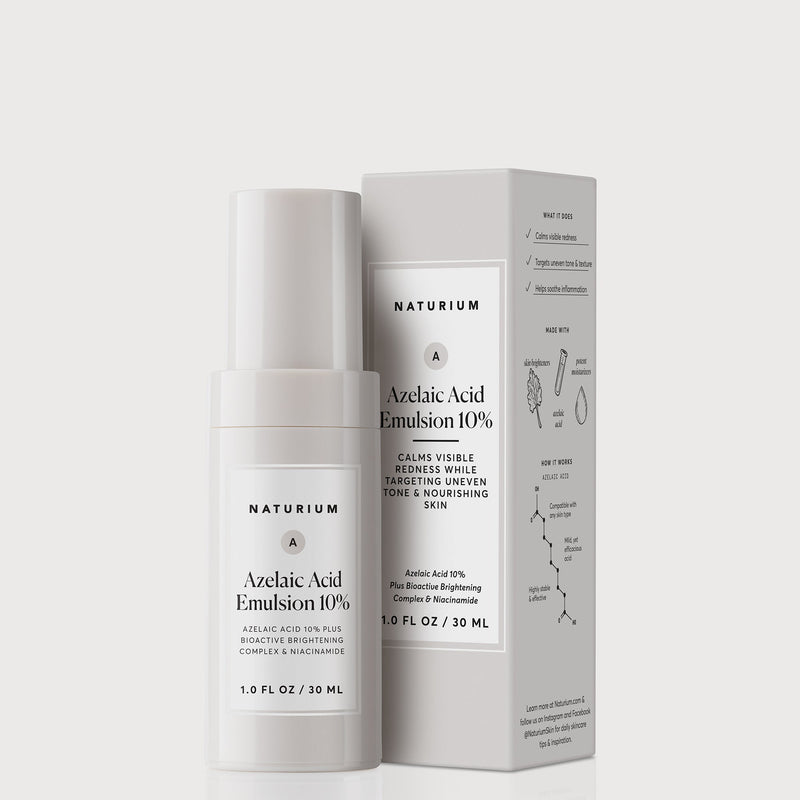 Azelaic Acid Emulsion 10%
1.0 FL OZ / 30 ML Our creamy, lightweight azelaic acid emulsion is formulated with a potent level of pure azelaic acid, a bioactive brightening com...
View product page