Using Niacinamide and Vitamin C Together
The Science Behind It...
Overall clinical data on a specific ingredient(s) & how they function.
Can You Use Niacinamide and Vitamin C Together?
Yes, you can combine niacinamide and Vitamin C to create a synergistic pairing that provides brightening, anti-aging, and protective benefits for skin. Contrary to conclusions based on outdated, poorly interpreted research, learning how to use niacinamide and Vitamin C together can improve both the overall appearance and health of skin.
What Does Niacinamide Do for the Skin?
Niacinamide can benefit the skin by improving its overall appearance, contributing to a smoother texture, more even tone, and increased radiance. It is particularly effective for the reduction of discoloration, minimizing dark spots and other signs of sun damage. Niacinamide works by helping to bolster the ceramide production to strengthen skin's protective barrier and moisture retention. Additionally, its ability to inhibit melanosome transfer, fatty acid production, and proinflammatory cytokines aids in the improvement of acne, irritation, and brightness.
Benefits of Niacinamide
Helps to balance skin tone, fading dark spots and hyperpigmentation

Supports smooth skin texture

Brightens the look of skin

Helps prevent damage from UV rays and environmental pollutants

Reduces inflammation and congestion

Allows for more effective moisture retention

Helps improve skin elasticity
Who Should Use Niacinamide?
Niacinamide is suitable for all skin types, including sensitive skin. It lends itself well to routines that aim to improve skin tone, texture, and radiance, particularly for individuals with hyperpigmentation and a dry, and/or acne-prone complexion.
What Does Vitamin C Do for the Skin? 
Vitamin C (ascorbic acid) is a naturally-occurring antioxidant best known for its ability to reduce the appearance of dark spots and hyperpigmentation, while also brightening the skin. It serves an important role in the stabilization of collagen, diminishing wrinkles, fine lines, and sagging skin. Also, Vitamin C aids the skin's ability to fend off harmful free radicals and other environmental stressors.
Benefits of Vitamin C
Helps to lighten the look of dark spots by slowing pigment production

Increases skin's radiance and natural glow

Helps support collagen production and stabilization to provide anti-aging effects

Neutralizes free radicals
Who Should Use Vitamin C?
Free ascorbic acid requires low pH systems to penetrate through the skin to the viable epidermis, which can irritate those with sensitive skin. If you have sensitive skin, use a Vitamin C derivative or look for specialized delivery systems of ascorbic acid that do not require low pH systems. Due to its protective benefits and therapeutic properties, Vitamin C can support improved skin appearance for individuals of all ages. It is an ideal treatment for dark spots, and can support those with goals that include increased brightness and youthfulness.
Layering Niacinamide and Vitamin C
Although the combination of niacinamide and Vitamin C was once thought to be an incompatible pair, we now know that they are a dynamic duo for skin health, radiance, and tone.
The best way to layer niacinamide and Vitamin C is to begin with a Vitamin C serum, applying it after you have cleansed and dried your skin. Then, apply your preferred niacinamide-containing product.
Vitamin C can be used both morning and night. When used in the morning it can protect your skin from oxidative stress caused by daily pollutants and when used at night it can replenish depleted Vitamin C concentration in the skin caused by solar radiation. Also, determining what order to apply niacinamide and Vitamin C depends on the specific formulas you are using. A good rule of thumb is to apply products from thinnest to thickest consistency for optimal absorption.
How Often Can Niacinamide and Vitamin C Be Used Together?
Niacinamide and Vitamin C can be used up to two times a day, though it is recommended that you patch test first to confirm your skin's tolerance.
All-in-one morning step
Our daily moisturizing sunscreen is formulated with niacinamide and ethyl ascorbic acid (a Vitamin C derivative) to help visibly improve the look of the complexion, in addition to organic/chemical sunscreen filters that apply invisibly on all skin tones to provide broad spectrum SPF 50 PA++++ protection while leaving a dewy, radiant finish.
DISCLAIMER: Lab Journals are intended to help educate on specific ingredients and skin care topics. Our articles are written to be informative and informational.
Please note any Naturium products with referenced ingredients are formulated for Cosmetic Use Only and NOT intended as replacements for physician pharmaceutical product recommendations.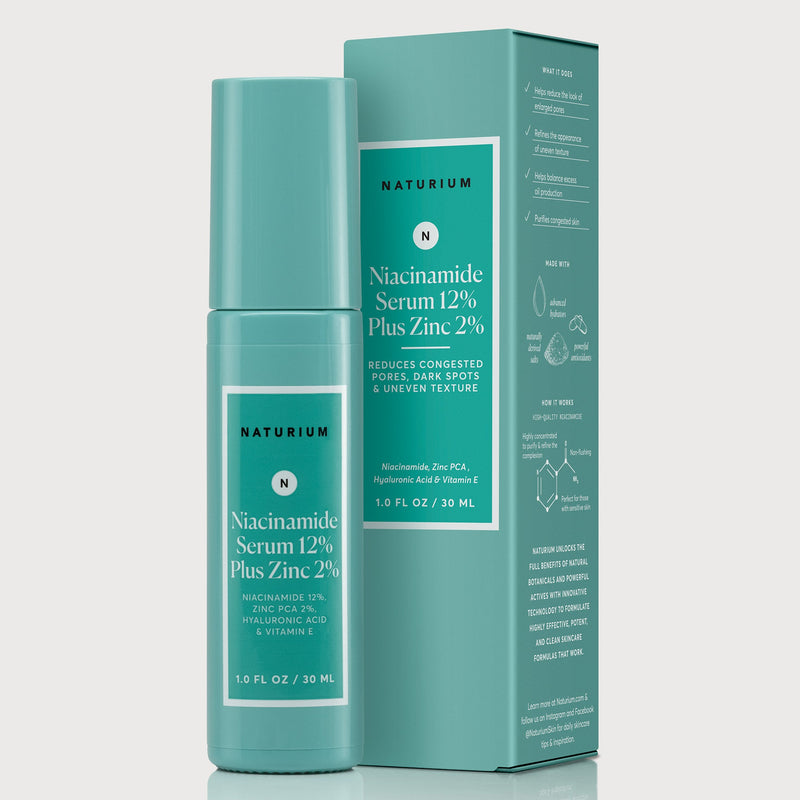 Niacinamide Serum 12% Plus Zinc 2%
30 ML / 1.0 Fl OZ New look, same great formula!Our concentrated serum is formulated with pure 12% niacinamide and 2% zinc PCA, and is clinically pr...
View product page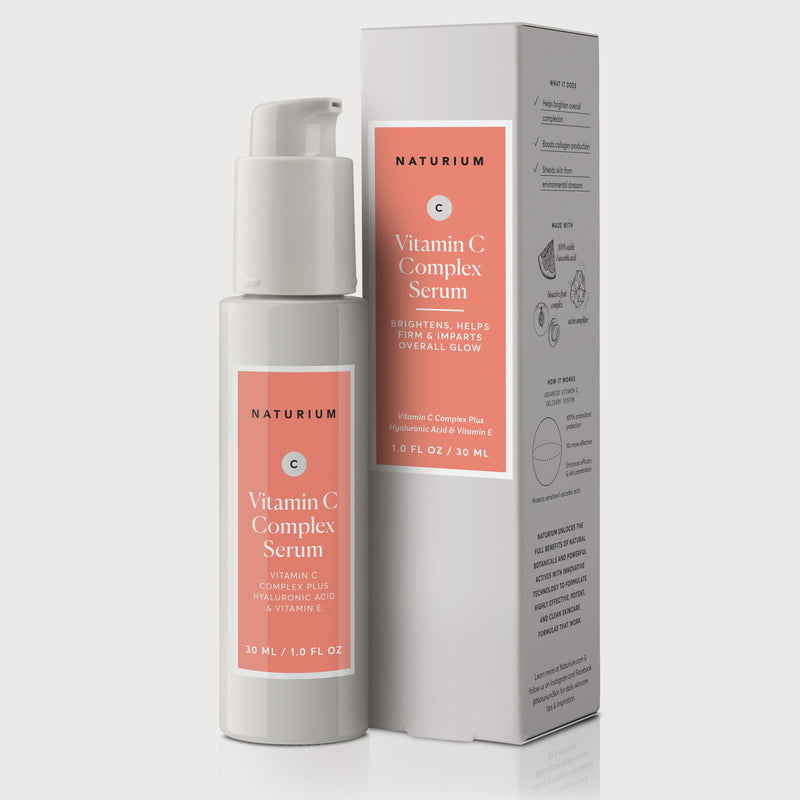 Vitamin C Complex Serum
30 ML / 1.0 FL OZ Our potent vitamin C serum is formulated with a gold and highly stabilized l-ascorbic acid vitamin C complex, sodium ascorbyl ph...
View product page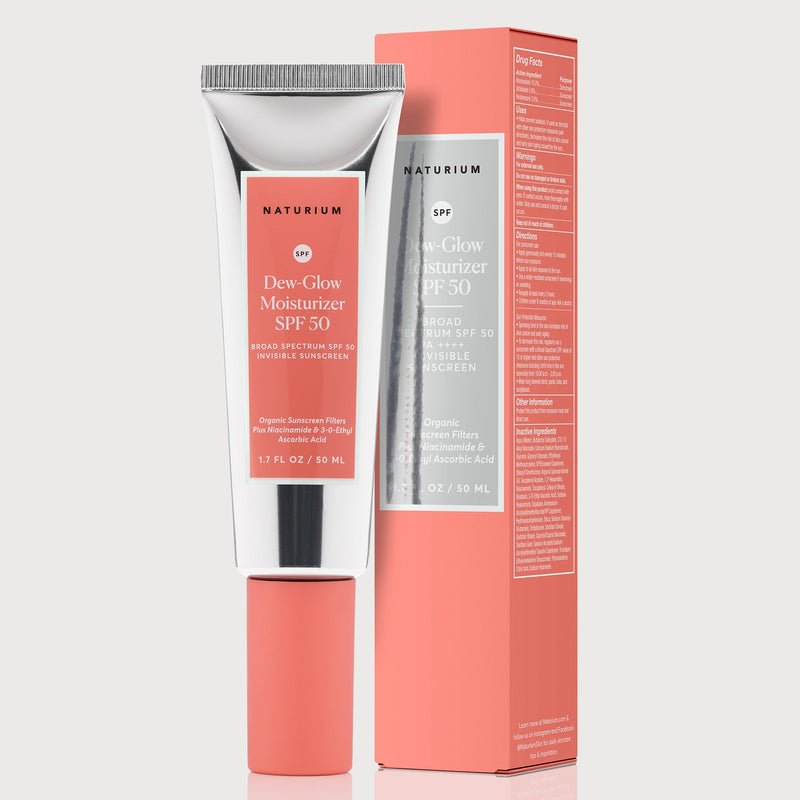 Dew-Glow Moisturizer SPF 50
1.7 OZ / 50 MLOur daily moisturizing sunscreen is formulated with organic/chemical sunscreen filters that apply invisibly on all skin tones to prov...
View product page